Case Study: Legacy Orthopedics and Sports Medicine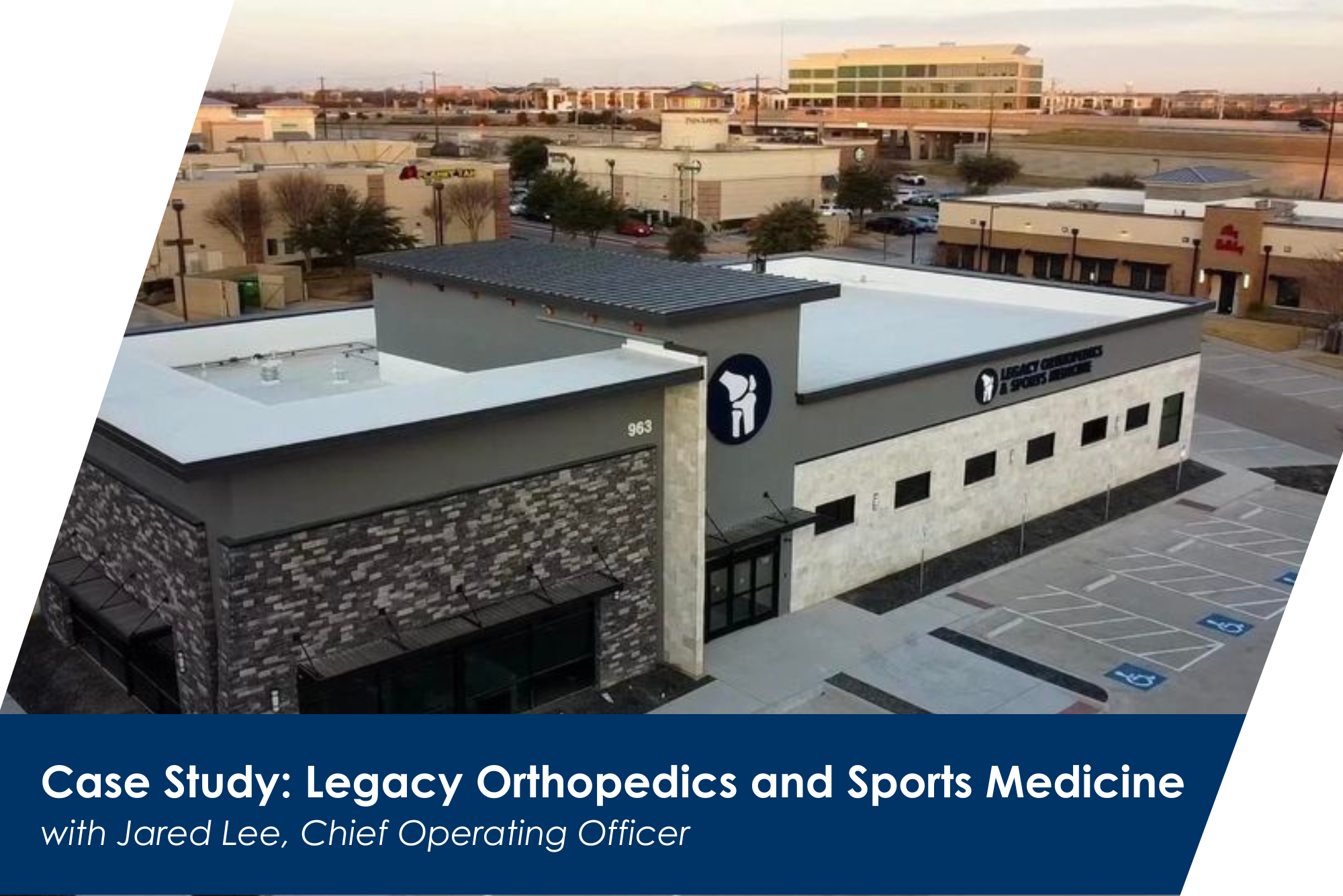 Jared Lee is the Chief Operating Officer at Legacy Orthopedics and Sports Medicine, which is located just north of Dallas, Texas.
As COO, Jared oversees the practice's daily operations while identifying areas for improvement and growth. He works closely with the leadership team to ensure the needs of staff and patients are met while making changes that improve quality of care and patient experience with the practice.
Because Dallas has such a competitive market, Legacy Orthopedics and Sports Medicine realized they needed to do more than maintain a positive online image.
Identifying Issues and Naming Solutions
Legacy Orthopedics had already implemented Simple Interact to collect patient feedback and online reviews, but they were relying on their electronic medical record (EMR) platform for patient engagement services.
Jared noticed patients were reverting back to paper intake forms and manual check-in processes, which slowed down the front desk and hindered the organization's ability to provide high-quality patient care. When evaluating key areas of improvement for the organization, Jared identified the following growth opportunities:
Patient intake
Appointment reminders
Patient check-in
Why Simple Interact?
After seeing the success of using Simple Interact for patient feedback and reputation management, Jared became interested in switching over to Simple Interact in the above areas to make significant improvements in patient experience.
However, Simple Interact wasn't the only company Jared considered. He did his research and interviewed other companies, but found that customization would be difficult and the entire experience would be arduous.
He also spoke with healthcare organizations who had implemented patient engagement solutions from Simple Interact, and was encouraged to find that our sales team, developers, and technicians work closely with one another to ensure we can deliver on any promises we make. The ease of extensive customization was another critical factor in making his choice.
Cost / Benefit Analysis
Jared was convinced, but knew he needed to justify the increase in cost to the Legacy Orthopedics leadership team. His next step was to create a cost/benefit analysis and walk the team through concrete numbers and projections that demonstrated Simple Interact's worth.
The easiest and most obvious first item to highlight was a reduction in paper and printing costs. The analysis also considered the time front office staff spent scanning documents — an estimated two to three hours per day that could be eliminated — and the ability to keep an active database of current insurance for patients prior to their appointments so staff could verify benefits ahead of time.
Jared also pointed out that in a consumer-driven market like Dallas, their practice needed to stay up to date with patient expectations. In an area where barbers have online check-in and veterinarians have user-friendly patient portals, the expectations for medical practices naturally rise.
These elements and more convinced the Legacy Orthopedics and Sports Medicine team that it was time for a change, and they switched to Simple Interact for digital patient intake and check-in solutions.
Positive Changes at Legacy Orthopedics
Since Legacy Orthopedics and Sports Medicine started using Simple Interact for patient engagement, they've noticed the following improvements:
Higher Confirmation Rate
By elevating their appointment reminders from simple SMS text messages to tailored, automated messages, the practice has reached an 81% auto-confirmation rate.
Jared attributes the effectiveness of the new appointment reminders to the following customizable features:
Frequency — Reminders are sent days before and on the day of the appointment to keep the time, location, and additional instructions top-of-mind.
Directions — Reminders include specific directions about where to park and enter the building to make finding the office (especially their new location) a breeze.
Photos — Messages include a picture of the building so patients know they're in the right place when they arrive.
GPS Navigation — Patients have loved the convenience of receiving a text 90-minutes before their appointment with a link that pulls up the address in their Apple or Android navigation app.
Completion of Digital Forms
Since implementing Simple Interact, 91% of new patient forms are now completed digitally before patients arrive in the office. This is a significant improvement from the completion rate with the previous provider and makes the check-in process much smoother for the staff.
Greater Patient Satisfaction
Additionally, the shift from paper to digital has dramatically changed the way front office staff interact with patients when they walk in the door. Previously, the exchange was impersonal and task-oriented:
Welcome!
Copy of driver's license
Copy of insurance
Fill out paperwork and bring it back to the counter
Now, it's a much warmer interaction:
Good to see you, Mr. Doe!
We've been expecting you!
We have everything we need.
I'll let the back office know you're ready.
This new process creates a much better first impression and sets a positive tone from the moment people enter the office. It also proves to patients that the practice values their time and puts careful thought into their whole experience, from the initial engagement all the way to the appointment.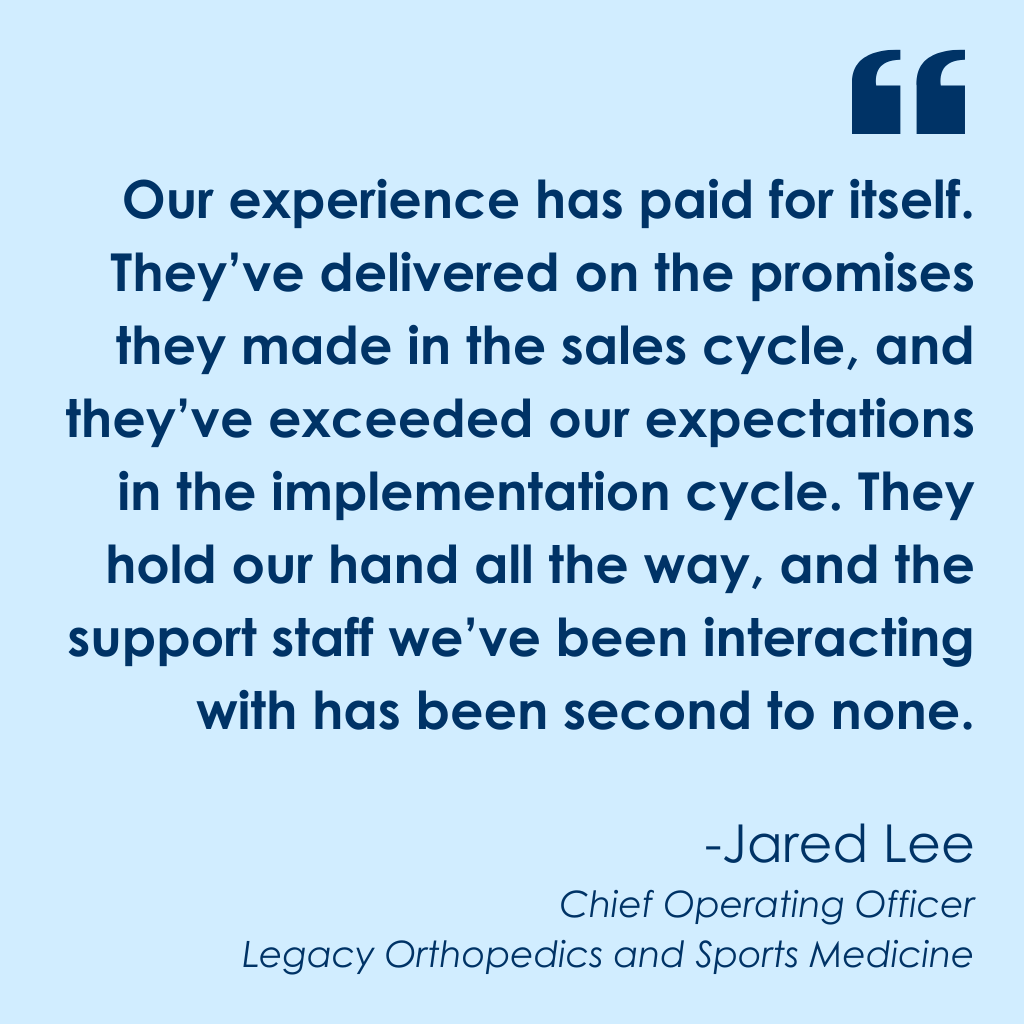 Why Legacy Orthopedics and Sports Medicine Recommends Simple Interact
In addition to the measurable results Legacy Orthopedics has experienced from using Simple Interact, Jared says Simple Interact has surpassed the expectations of the whole practice.
He noted the difficult nature of integrating with Legacy's particular EMR, and Simple Interact's dedication to making it happen the right way, no matter how much work it took on their part. And he loves that he can reach a Simple Interact team member who actually has the power to make change whenever he needs to.
"Our experience has paid for itself. They've delivered on the promises they made in the sales cycle, and they've exceeded our expectations in the implementation cycle. They hold our hand all the way, and the support staff we've been interacting with has been second to none." — Jared Lee
If you'd like to learn more about Simple Interact, give us a call or request a demo. We'd be happy to discuss the potential applications of our software solutions for your organization!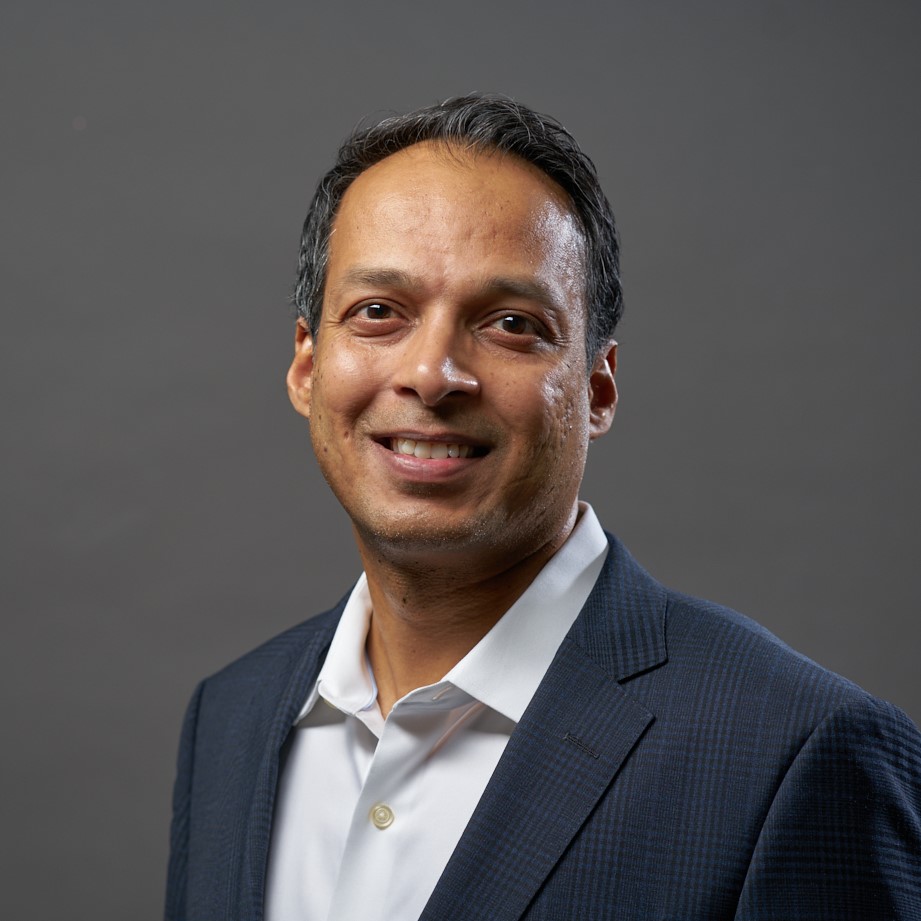 Ravi Kalidindi is the Founder and CEO of Simple Interact, a Business-to-Business (B2B) Software-as-a-Service (SaaS) healthcare technology company that serves physician groups, hospitals, and FQHCs. Customers view Ravi as a trusted partner who can quickly comprehend business problems and suggest "keep it simple" solutions that are effective and easier to maintain over time.
Apart from investing his blood, sweat, and smiles into Simple Interact, Ravi occasionally finds time for his favorite pastimes: travel, golf, and motorcycling.
Recent Posts
Categories
Archives