How to Improve Digital Patient Engagement and Grow Your Practice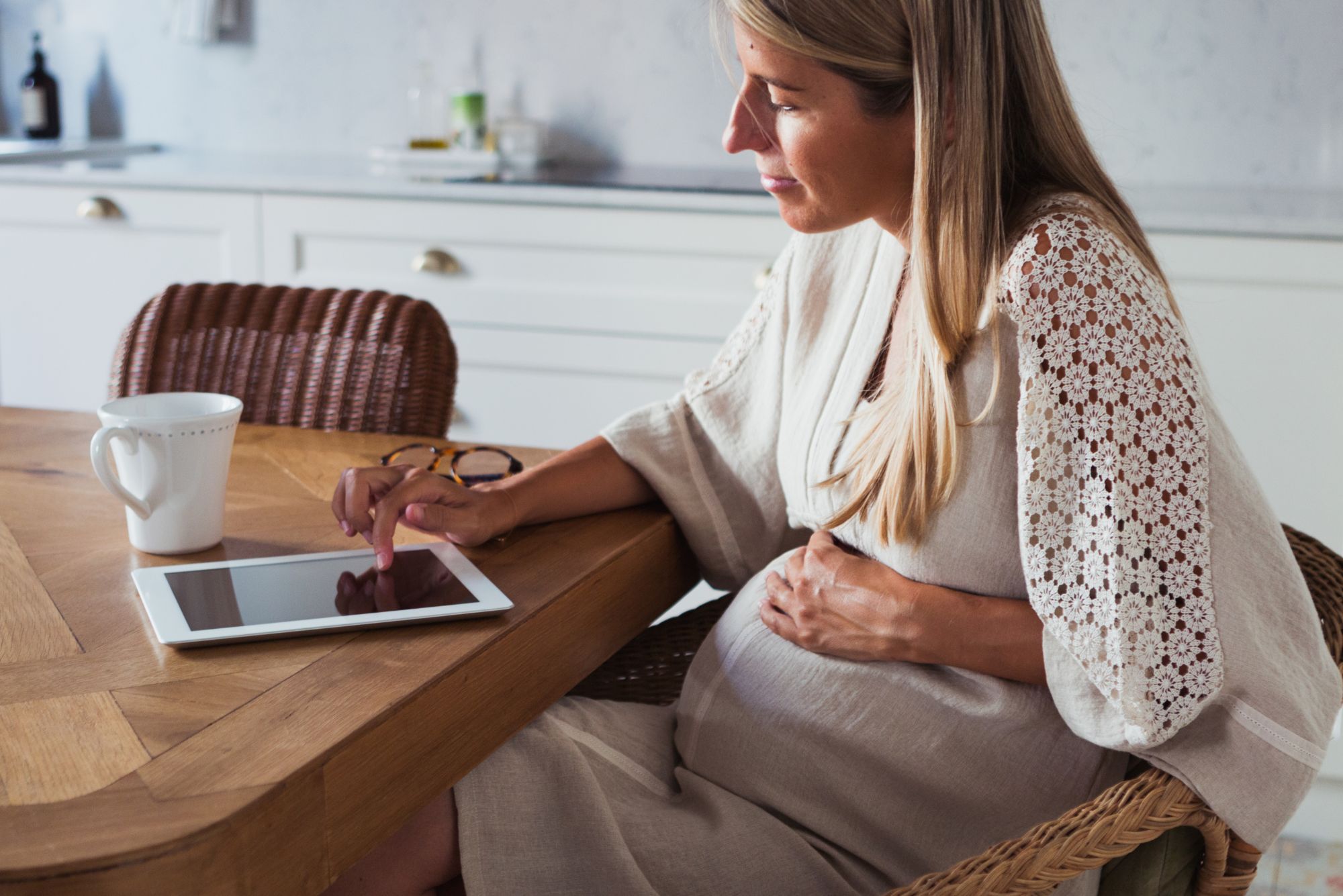 Most medical practices want to grow and provide care for more patients. But growth requires evaluating current strategies and deciding whether there's a better way to do things. One essential area that may need a boost is digital patient engagement.
Integrating automation into your digital patient engagement strategy is a simple, yet highly effective, way to grow your practice.
Defining Digital Patient Engagement
You might think of digital patient engagement as just appointment reminders, but it includes much more than that. Digital patient engagement is a broad term that refers to the many ways a practice can communicate and interact with its patients electronically. The most effective digital patient engagement tools connect with patients at a time and place that's convenient for them and on their preferred personal device.
Digital patient engagement tools do send appointment reminders, but they also prompt patients to complete activities that allow appointments to go as smoothly as possible. Besides appointment reminders, some of the most common and effective digital patient engagement tools include:
Broadcast and ad-hoc messages
Digital check-ins
Payment capture
Patient feedback and review prompts
Appointment, refill, and referral requests
Digital forms
Patients want and expect this level of service from practices in the digital age, and by providing it, you'll see an increase in patient satisfaction, adherence, and retention.
How to Increase Participation in Digital Patient Engagement
Practices need digital patient engagement for growth. But for digital patient engagement to be successful, patients need to actually open a practice's emails, read their text messages, and fill out their online forms.
Digital patient engagement is only as good as the level of participation it garners from patients — making patient participation the most critical key performance indicator (KPI) to track.
Incorporating several proven strategies into your communications will help improve patient participation:
Unlock the Power of Patient Reviews
Download our free guide and learn the reputation management strategies that empower you to attract and retain more patients.
Send well-timed messages to patients with clear action items, such as completing forms or confirming appointments.
Include one action item per message or reminder. Asking patients to complete too many tasks at once results in overwhelm.
Allow sufficient time between reminders to avoid confusing patients with too many messages at once.
Deliver reminders in a logical order, such as sending an appointment confirmation request before sending directions to the appointment location.
Limit messages to only those needed for appointments and patient care, avoiding messages on non-critical subjects, such as birthdays or other occasions.
Customize messages for appointment types that have different needs. For example, the pre-procedure email with instructions for a microdermabrasion appointment should not be sent to someone with an acne treatment appointment.
Prioritize the most effective modes of communication. SMS text messages are typically the most effective, followed by email and then voice.
Keep messages as short as possible to avoid details getting lost. Concise messages lead to quicker action.
Provide multi-language support so that patients can read messages in the language most comfortable to them.
How Patient Participation Helps Practices Grow
When you improve patient participation and, consequently, the effectiveness of digital patient engagement, you also improve practice efficiency — and efficiency is good for growth.
Communications Tools
Increasing and streamlining your communications both before and after appointments will reduce appointment leakage, improve patient flow, and boost patient satisfaction. An informed patient shows up at your door, on time and prepared. A happy patient leaves great reviews and keeps their future appointments.
Some digital communications you can implement include:
Reminders to fill out digital intake forms
Pre-visit information and instructions, such as the need to fast before a blood draw
Parking, directions, or other logistical information
Post-visit or post-procedure instructions
Reminders to schedule follow-up appointments
Patient feedback survey
You can adapt communications tools to fit your practice. For example, patients might find two-way texting convenient, but perhaps it would overwhelm your staff and providers. Instead, you could choose to let patients submit their requests online and then queue them up as tasks for staff to work through as they're able. This still improves communication and patient participation.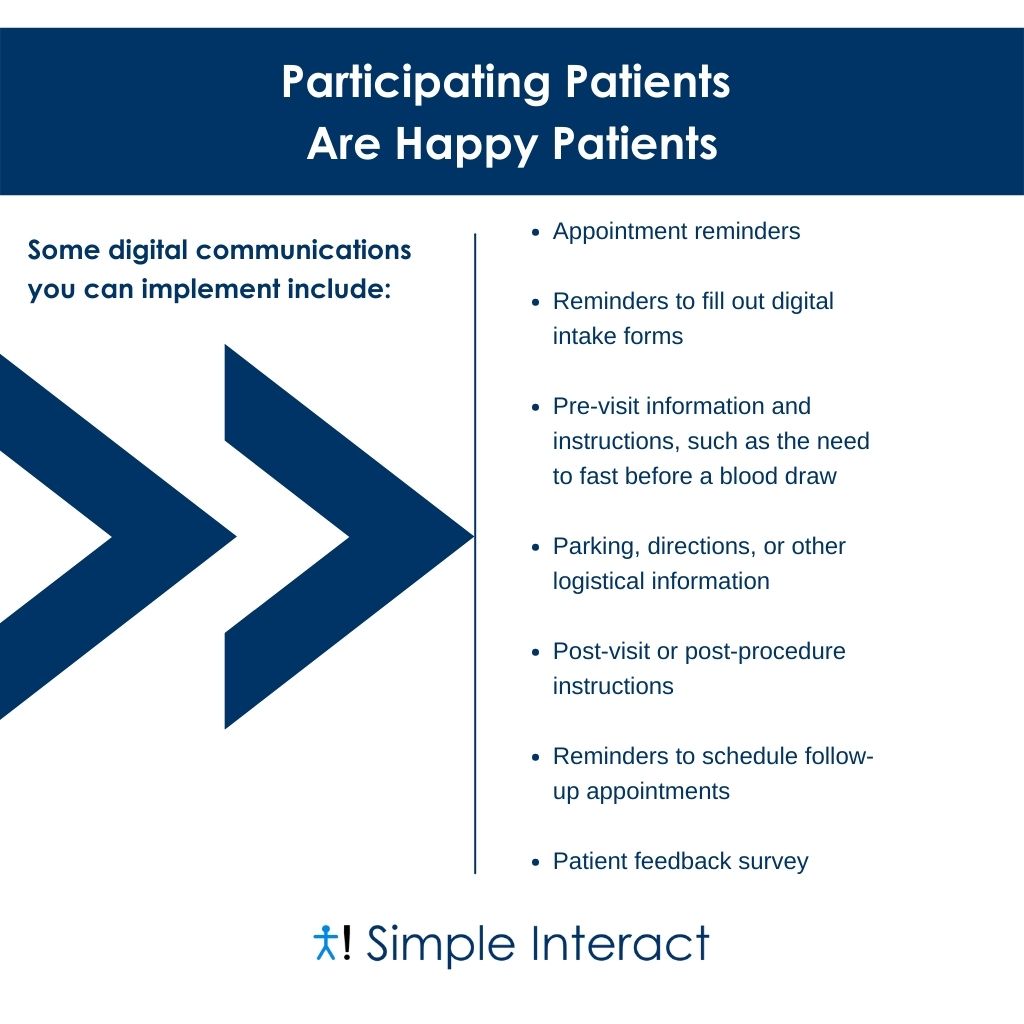 Self-Serve Tools
Beyond communication, several "self serve" engagement tools will also help improve office efficiency and provide greater access and convenience to patients:
Digital appointment scheduling, so patients can make or change appointments at any time of day or night
Digital prescription refill requests, so patients don't have to contact your office directly
Digital referral requests, to facilitate referrals while saving the time of a phone call
Automated filling of canceled appointment slots, so there are no gaps in the schedule
Again, digital patient engagement isn't one-size-fits-all, and you'll need tools that adapt to your unique situation. Perhaps, for example, your practice has nuanced scheduling parameters that don't lend themselves to automation. In that case, it might make sense to allow self booking for some appointment types, while queuing up requests for others.
Results
Digital automation takes a little strategizing on the front end, but the results are worth it. The improved patient flow and reduced costs alone contribute in a very real way to practice growth. You can expect to see:
A quicker patient intake process with a reduced burden on staff
Reduced appointment cancellations, delays, and no-shows
More patients showing up prepared for appointments
Decreased wait times
Space for more patients per day in providers' schedules
Reduced expenditures in office supplies like paper, toner, ink, and other printing costs
Faster physician reimbursement due to more complete data capture up front
More patients in the pipeline as a result of your positive reputation
Facilitate Growth With Digital Patient Engagement
Growing your practice and increasing your revenue could be as simple as implementing new patient engagement tools. When you incorporate strategic messages, reminders, and other tools through automated workflows, you introduce a quick, painless way to improve digital patient engagement and buy back time for patient care, retention, and acquisition.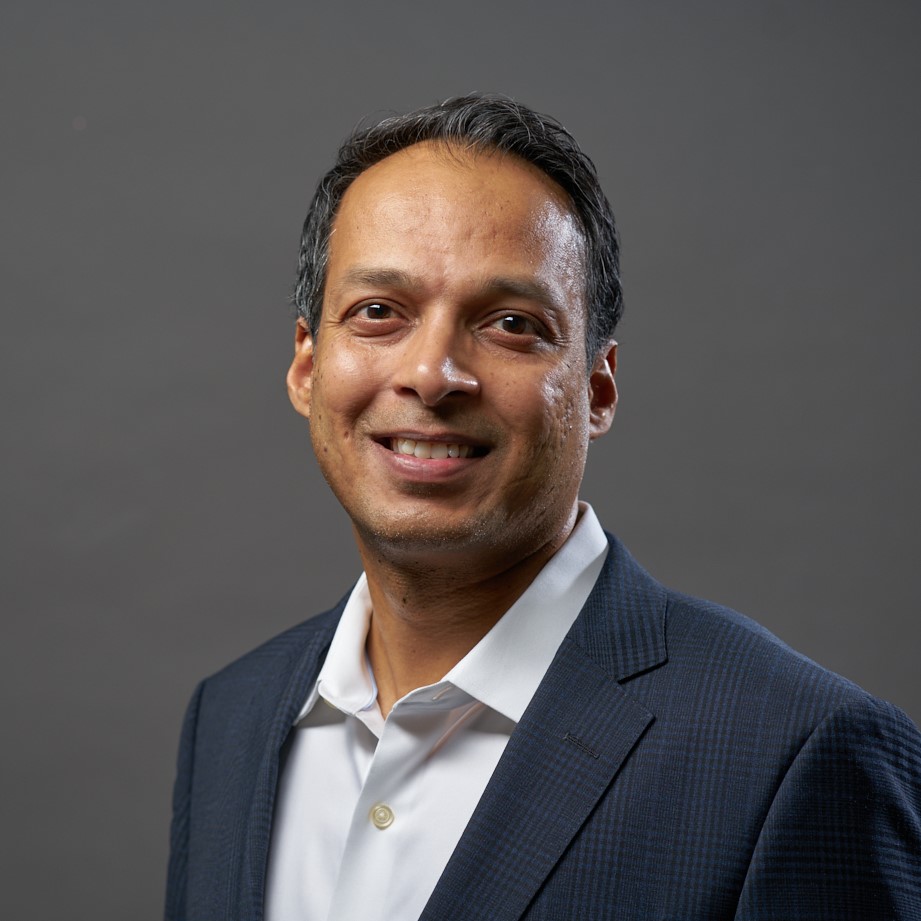 Ravi Kalidindi is the Founder and CEO of Simple Interact, a Business-to-Business (B2B) Software-as-a-Service (SaaS) healthcare technology company that serves physician groups, hospitals, and FQHCs. Customers view Ravi as a trusted partner who can quickly comprehend business problems and suggest "keep it simple" solutions that are effective and easier to maintain over time.
Apart from investing his blood, sweat, and smiles into Simple Interact, Ravi occasionally finds time for his favorite pastimes: travel, golf, and motorcycling.
Recent Posts
Categories
Archives