The 6 Best Digital Patient Engagement Platforms Compared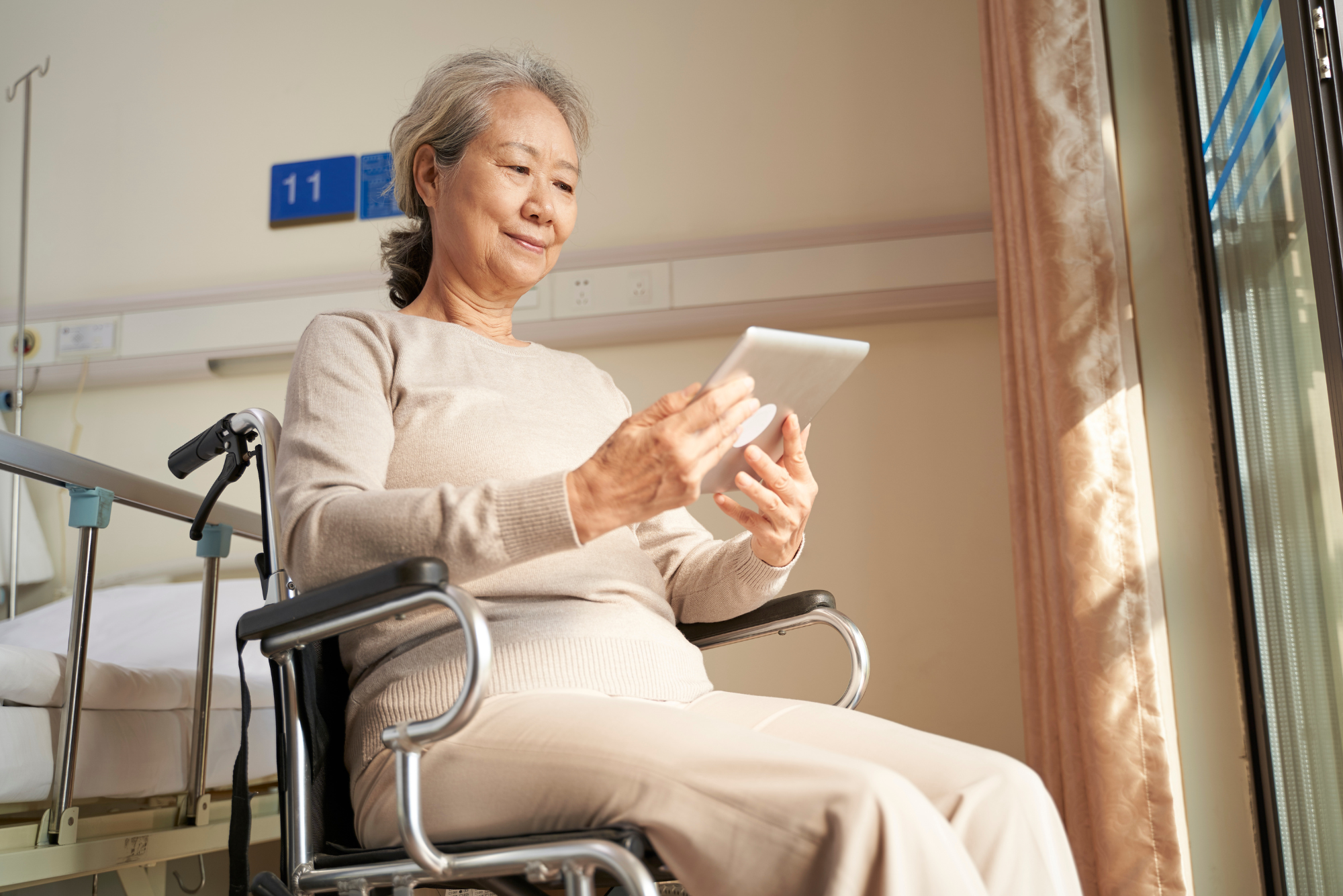 With so many digital patient engagement platforms on the market, how do you know which option is best for your healthcare facility?
Traditionally, patient engagement meant keeping patients informed and improving patient adherence by communicating reminders, instructions, notifications, and other alerts via SMS, email, or phone. In short, it meant ensuring patients behaved a certain way (showing up on time, coming prepared for an appointment, etc.) so providers could do their job correctly and efficiently.
Over the past 10 years, however, patient engagement has evolved to include more touchpoints with patients to serve a broader purpose. In this wider application, patient engagement means improving areas like patient outcomes, patient access, and patient experience through new features like digital forms, digital check-in, surveys, and more.
To choose a digital patient engagement platform that gets optimal results for your facility, it's important to consider which features a platform offers and what goals those features achieve.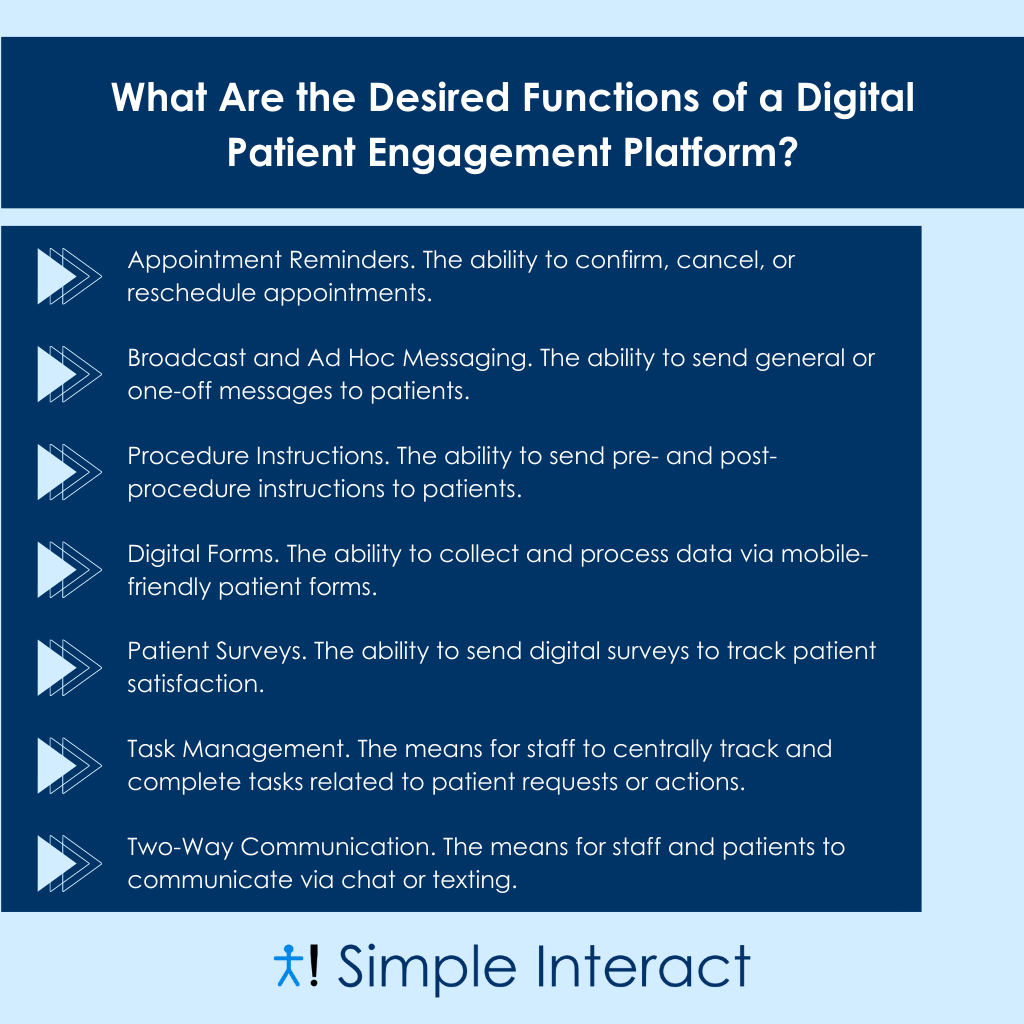 What Are the Basic Functions of a Digital Patient Engagement Platform?
Every digital patient engagement platform needs the following core capabilities via email, text, or phone:
Appointment Reminders. The ability to confirm, cancel, or reschedule appointments.
Broadcast and Ad Hoc Messaging. The ability to send general or one-off messages to patients.
Procedure Instructions. The ability to send pre- and post-procedure instructions to patients.
These core capabilities help accomplish a simple goal — patient adherence — but they don't facilitate the broader goals of improving patient outcomes, access, and experience. If you'd like your digital patient engagement platform to serve the latter functions, you also need the following capabilities:
Digital Forms. The ability to collect and process data via mobile-friendly patient forms.
Patient Surveys. The ability to send digital surveys to track patient satisfaction.
Task Management. The means for staff to centrally track and complete tasks related to patient requests or actions.
Two-Way Communication. The means for staff and patients to communicate via chat or texting.
While offering all the above capabilities is excellent, what really makes a digital patient engagement platform complete is extensive configurability and customizability. This allows you to stitch the above capabilities together to create helpful solutions, like health outreach campaigns, gaps-in-care follow-ups, and more.
If you'd like an idea of the wide scope of patient engagement needs you can meet with a versatile and flexible digital patient engagement platform, take a look at this blog post.
When all these digital patient engagement platform features work together, both patients and providers see significant benefits, including:
Patients showing up on time and prepared for appointments.
Reduced no-shows and appointment leakage.
Reduced staffing needs because of increased automation.
Increased provider utilization because of better operational efficiency.
Better patient outcomes through increased adherence and addressing gaps in care.
Reduced material and equipment costs (paper, printers, ink, etc.).
More satisfied patients who leave positive online reviews.
6 Digital Patient Engagement Platforms: A Review
Because choosing a comprehensive digital patient engagement platform is crucial for improving patient adherence, experience, and satisfaction, it's important to weigh your options carefully.
Below, we review the pros and cons of the six best patient engagement platforms on the market today, so you can choose the best fit for the needs of your healthcare organization.
Platform #1: Relatient
Relatient is a comprehensive patient engagement solution that offers many of the key features necessary for a patient engagement platform. They started with reminders, but recently acquired a self-serve solution called Dash for appointment bookings.
Pros
Easy Operation. Relatient is a convenient software for patients because it doesn't require them to download an app, enter a portal, or create a username or password.
Survey Capabilities. In addition to messaging and reminders, Relatient includes patient satisfaction survey capabilities.
Cons
Limited Forms Capabilities. Relatient's forms customizability is not extensive, which can be a limiting factor when you need additional information at different points in the patient care journey.
Platform #2: SolutionReach
SolutionReach has been around for 20+ years. Though it began in the dental space, this digital patient engagement platform has since become popular among other healthcare organizations.
Over the years, the platform has expanded from focusing solely on patient adherence to including other capabilities, like patient recall, text messaging, group messaging, surveys, and more.
Pros
Multiple Services. SolutionReach offers core capabilities as well as features to reach more modern patient engagement goals, including patient marketing and acquisition.
Cons
Poor Customer Service. Customers have complained in reviews about poor customer service and a lack of support.
Limited Solutions. SolutionReach does not offer proven solutions for digital patient intake forms and digital check-in, unlike many other digital patient engagement platforms.
Platform #3: Simple Interact
Simple Interact is an all-in-one front-office automation platform with a comprehensive range of services, including digital patient intake forms, patient engagement, contactless healthcare with digital check-in, self-service with scheduling task automation, and more. It also facilitates patient feedback and reviews to help healthcare organizations improve their online reputation.
Pros
Comprehensive Platform. Simple Interact serves the core needs of a digital patient engagement platform — patient adherence — as well as the broader patient engagement goals of improved patient outcomes, access, and experience.
Customizable Software. Simple Interact is designed to serve nuanced customer needs and is highly customizable and configurable. It does not need to make coding changes to accommodate custom needs for your organization.
Fast Turnaround Time. Simple Interact has a customer implementation team of UX (user experience) designers who quickly translate your healthcare business needs into fully tested, fully developed form solutions.
Results-Oriented Platform. Simple Interact focuses on results and constantly collaborates with customers to determine what's working, what isn't, and what changes need to be made to improve the provider and patient experience.
High Patient Participation. With Simple Interact, customers typically see 75% of appointments automatically confirm, a 25% reduction in both no-shows, and a 25% reduction in appointment leakage. Customers also enjoy other benefits, such as improved digital patient intake, patient satisfaction, and online reputation.
High-Quality Support. Simple Interact provides industry-leading customer service and communication, including training, support, best practices for high utilization, and ongoing customization.
Cons
Lacks Two-Way Texting. Simple Interact currently lacks two-way communication capability, but will add this feature in 2023.
Platform #4: Phreesia
Phreesia is a large big-box vendor primarily focused on digital check-in and payment collection. However, this digital platform also offers patient engagement features, like messaging capabilities and appointment reminders.
Pros
Well-Established Company. Phreesia has been around since 2005 and has stood the test of time, so it's a reliable platform.
EHR Integration. Phreesia integrates with many EHR (electronic health records) systems, which is convenient for healthcare organizations.
Cons
Limited Patient Reminder Capabilities. While Phreesia includes some capabilities for appointment reminders, it isn't very customizable and can't serve nuanced needs. Many Phreesia customers use a separate platform for patient reminders.
Steep Learning Curve. Since it involves an entirely new dashboard instead of your existing EHR dashboard, Phreesia can take longer for staff to learn how to use and longer to implement into your healthcare organization.
Slow Patient Workflow. Phreesia patient participation has room for improvement. The platform relies heavily on the use of onsite tablets rather than getting patients to fill out forms ahead of time, which slows down patient workflow.
Platform #5: athenaCommunicator
The well-known modern EHR platform athenaOne has a patient communication service called athenaCommunicator. The service includes their patient portal, payment capabilities, self-serve options like appointment booking, and certain patient engagement functions like appointment reminders.
Pros
Sufficient Capabilities. If you operate a small healthcare practice with limited needs, athenaCommunicator should be adequate to serve as your digital patient engagement platform.
Cons
Limited Customizability. While athenaOne is a great EHR, athenaCommunicator has the typical limitations of a patient portal. Also, larger practices or organizations with more nuanced needs won't have access to all the tools they need to achieve their goals. To address such gaps, athenahealth has a robust marketplace of integrated third party vendors such as Simple Interact.
Platform #6: Intrado HouseCalls Pro
Intrado HouseCalls Pro has been around for 30 years. The company was formerly Telavox, which was acquired by West, which Intrado then acquired.
Through its various acquisitions and enhancements, Intrado HouseCalls Pro now offers a collection of services like appointment reminders, broadcast messages, live chat, and instructions. In addition, they offer care management and referral management solutions.
Pros
Comprehensive Platform. Intrado HouseCalls Pro offers a robust digital patient engagement platform facilitating patient adherence, outcomes, and experience.
Cons
Unreliable Platform. Intrado HouseCalls Pro is a big-box vendor that isn't solely dedicated to healthcare. It can suffer from spotty service and stability issues.
Extensive Training. Your staff will need to undergo extensive training to understand the ins and outs of this platform.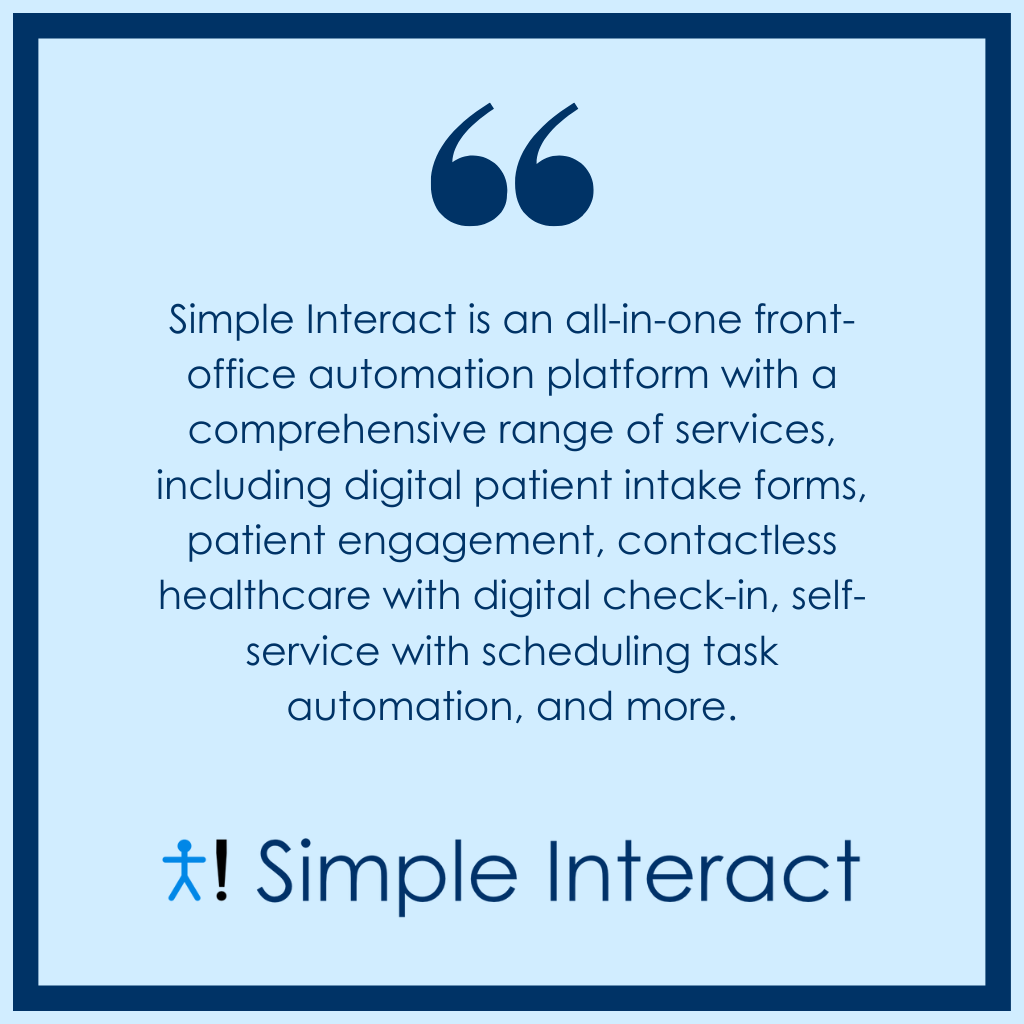 Interested in Simple Interact?
Every digital patient engagement platform is different, and depending on the unique needs of your healthcare organization, one platform may be a better fit for you than another.
If you would like to know more about Simple Interact's proven high patient participation, reduced no-shows, lower appointment leakage, and other benefits, you can learn more about our all-in-one front-office automation platform here.
Recent Posts
Categories
Archives