Why Online Reputation Management Matters for Community Hospitals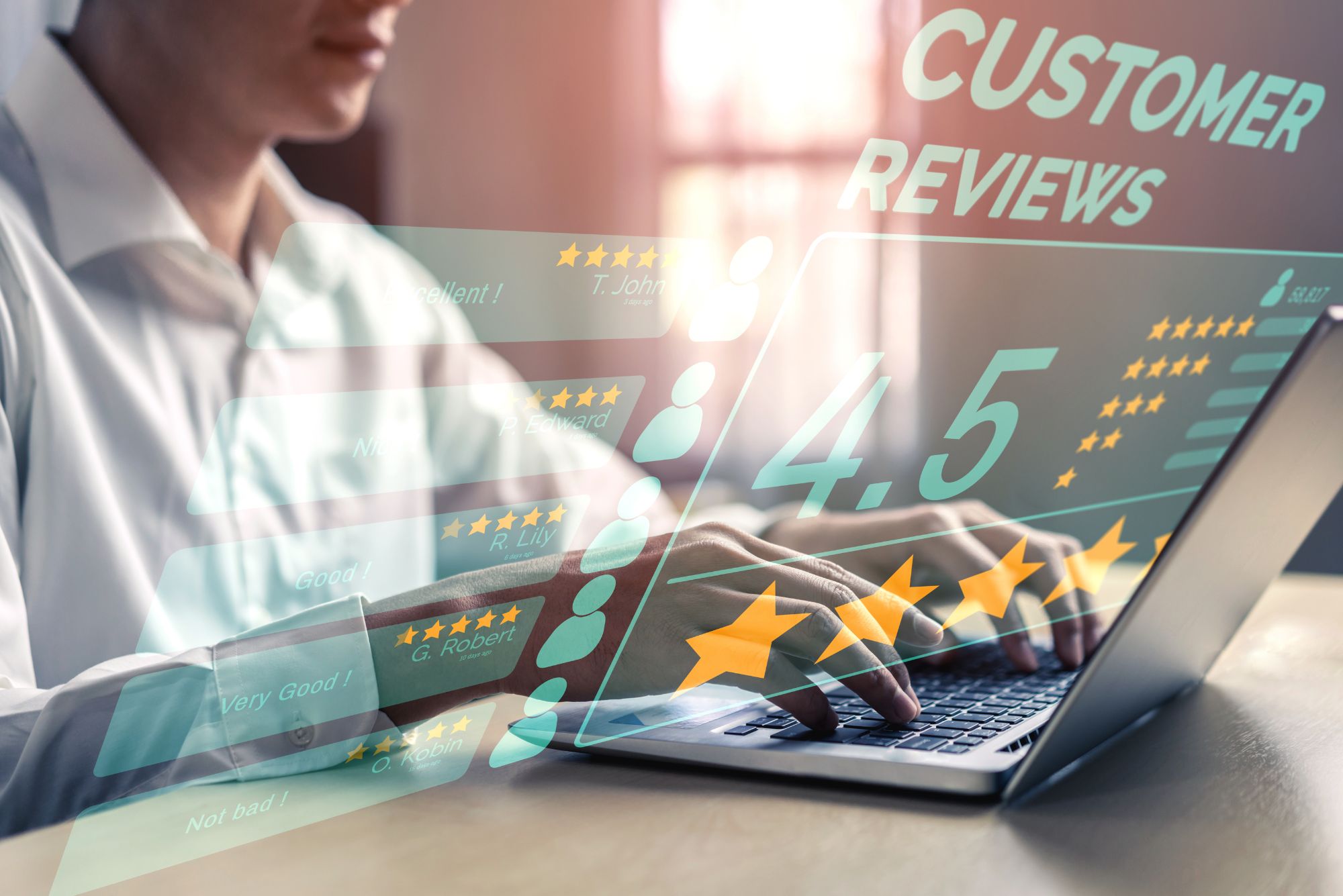 When was the last time you looked at an online review? Was it for a pair of shoes you wanted to buy on Amazon? A new restaurant you wanted to check out? A hotel you planned to book?
In the digital age, we as consumers have been programmed to look at the opinions of others through online reviews and use their experiences to make better buying decisions. We know reviews are common in industries like hospitality, but did you know they're equally important — if not more so — in healthcare?
When it comes to personal health and the well-being of family members, of course people are going to consider online reviews. This is why managing the online reputation, or social proof, of your community hospital or regional medical center matters.
The days of your hospital being the only option for your patients are over. There are more hospitals now than there were 50 years ago, and as such, patients are using online reviews to weigh your hospital against your competition.
If competitor hospitals realize the importance of online reputation management before you do, they'll invest in strategies to acquire your patients, resulting in patient leakage. Not being proactive about patient satisfaction even impacts your reimbursements through Medicare and affects your ability to provide top-notch care to your community.
What Happens if You Fail?
If this is a new concept for you, you're probably asking yourself, what happens if I fail to effectively manage the online reputation of my community hospital?
Low Online Customer Rating
One obvious effect is a drop in your online customer rating. When a potential patient searches for a local hospital using Google, Google's customer rating is the first thing they see. If that rating is less than impressive, it may be the only thing they bother seeing before moving on to your competitors.
Google is paying attention to your rating, your customers are paying attention to your rating, and your competitors are paying attention to your rating. If you've been ignoring it, now is the time to take action.
Patient Leakage
A tangible result of not prioritizing reputation management for hospitals is patient leakage. This is the term used for losing patients to competition. Patient leakage could be happening because your Google rating is turning potential patients off right away, or it could be because your competition is providing services to their patients that you're not.
To find out what your patients want, feedback is vital. And once you have that valuable feedback, you can upgrade your services, increase your profit margin, and invest back into the hospital, which will further improve patient satisfaction and your online reputation.
HCAHPS Score
Your online rating is a reflection of how much attention you're paying to patient experience and satisfaction. Perhaps the biggest impact to your hospital when you don't manage your patient satisfaction level effectively is a low Consumer Assessment of Healthcare Providers & Systems, or HCAHPS, score. This survey was developed by CMS, the Centers for Medicare & Medicaid Services, to better understand patient experiences with their healthcare providers, and it's required for most regional hospitals.
Your HCAHPS score can affect the reimbursements your hospital receives from Medicare and Medicaid, which, for most hospitals, is a very big deal.
Focusing on your reputation will boost online reviews and increase feedback, leading to better patient care and experiences. These improvements will ultimately increase your HCAHPS score and your reimbursements. 
How to Improve Your Online Reputation
If you're sold on the importance of reputation management for hospitals, you'll want to know what steps you need to take to improve your online reputation.
The easiest way is to simply ask! After a patient visits your hospital, sending them a quick survey about their experience is the best way to capture near real-time feedback about the medical care they received. Once they submit the survey, the next step is to request that they submit an online review.
Both of these requests can be managed automatically using front office automation software like Simple Interact. Patients receive short, simple surveys or customized surveys created specifically for your medical facility. They can then be prompted to leave reviews for the hospital on Google or Facebook, as well as provider reviews on sites like WebMD, Healthgrades, and Vitals.
By asking patients for feedback and reviews, you can proactively manage your hospital's reputation.
More Tips to Help You Improve Your Online Reputation: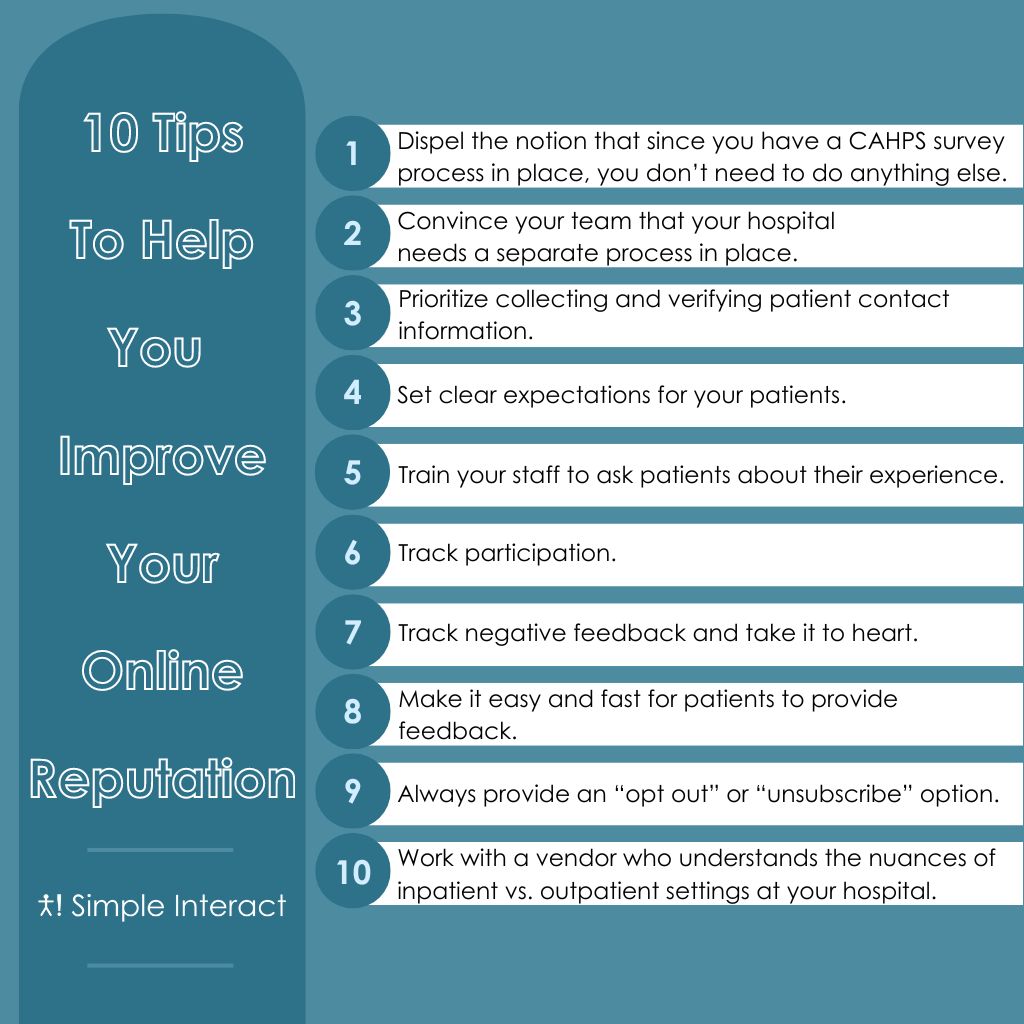 First and foremost, dispel the notion that since you have a HCAHPS survey process in place, you don't need to do anything else. There's significant lag to HCAHPS results, meaning HCAHPS-based decisions are reactive, and the HCAHPS process itself does nothing about online reputation.
Convince your team that your hospital needs a separate process that's simple to execute, enables proactive decision-making based on immediate patient feedback, and helps dramatically improve online ratings.
Prioritize collecting and verifying patient contact information, including email and cell phone information. You can only request reviews from patients you can reach!
Set clear expectations for your patients, letting them know that they will receive survey reminders and requests from the hospital. Explain that these messages help improve patient experience and that you take their feedback very seriously. Tell them their feedback is important to you, good or bad!
Train your staff to ask patients about their experience during the checkout process. Have a loose script that includes a request for patients to share negative or positive feedback in the survey they receive. 
Track participation. Ideally, your survey participation should be above 25%. If it's below 20%, encourage your providers to talk with patients about participating, emphasizing that it will improve patient care.
Track negative feedback and take it to heart. If the feedback you get is more than 1% negative, that's a problem. You may want to pay even closer attention to patient complaints and find ways to mitigate negative patient experiences.
Make it easy and fast for patients to take surveys and leave online reviews — every extra step of a survey causes additional participation drop off, as well as needing to enter a lot of data.
Always provide an "opt out" or "unsubscribe" option for patients. Otherwise, you risk ending up in a higher number of spam folders, or worse, getting more bad reviews from resentful patients.
Work with a vendor who understands the nuances of inpatient vs. outpatient settings at your hospital and can implement appropriate survey processes and timing.
Get Started on Hospital Reputation Management
A renewed focus on reputation management for your hospital can make a big difference in the success of your business and the quality of your patient care.
By simply scheduling automated reminders to collect survey results and request reviews from patients with Simple Interact's easy-to-use front automation software, you can start a domino effect that launches your community hospital into the number one spot in your area for patient experience and satisfaction.
Recent Posts
Categories
Archives