8 Processes You Can Automate to Make Your FQHC More Efficient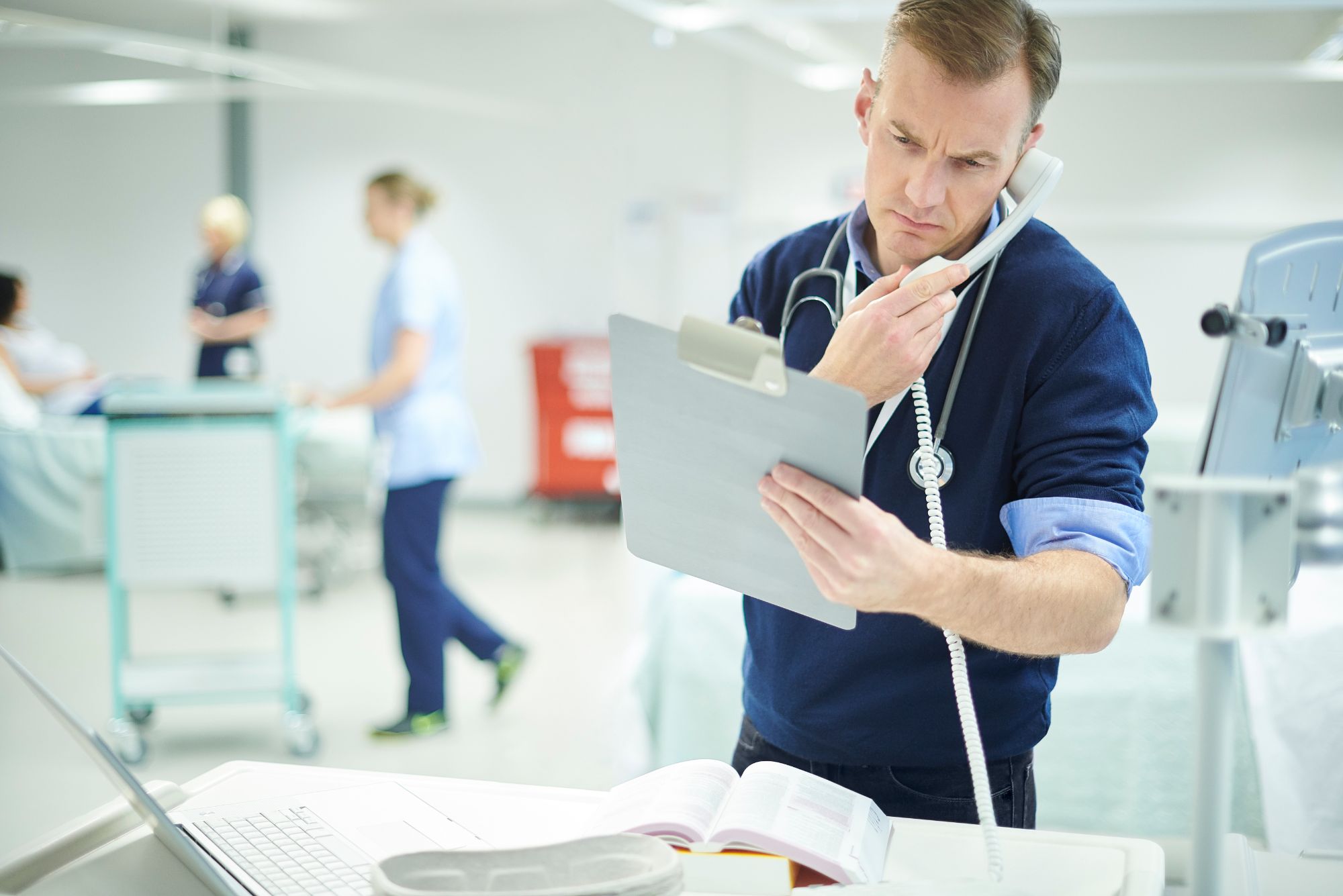 You already know that a Federally Qualified Health Center (FQHC) is unique when compared to other types of healthcare delivery organizations such as medical practice groups or hospitals. You rely on different sources of funding such as federal programs, grants, and private foundations. Each funding program may have its own specific requirements for data capture and reporting to determine eligibility. And these requirements often change over time.
In other words, FQHC needs are much more expansive and ever changing.
Process Automation Is Critical for FQHCs
Imagine implementing manual and paper-based processes to handle these expansive and ever-changing needs. In addition, as an FQHC, you likely serve a wide spectrum of patients, including patients who:
Come from underserved populations
Speak multiple languages
Have varying financial needs
Require social services
Need transportation assistance for medical care
Imagine handling your diverse patient population's varied needs using manual processes. Are you able to afford, hire, and retain the number of qualified staff needed to handle the load? When requirements change, can you change your processes, paperwork, and training quickly enough? Can you capture the needed data and produce reports on time? These manual processes are inefficient, ineffective, and expensive.
For FQHCs, operational efficiency is an absolute necessity, not a luxury. The only way to achieve operational efficiency and agility is by automating key processes at your FQHC.
Automate 8 FQHC Processes for Efficiency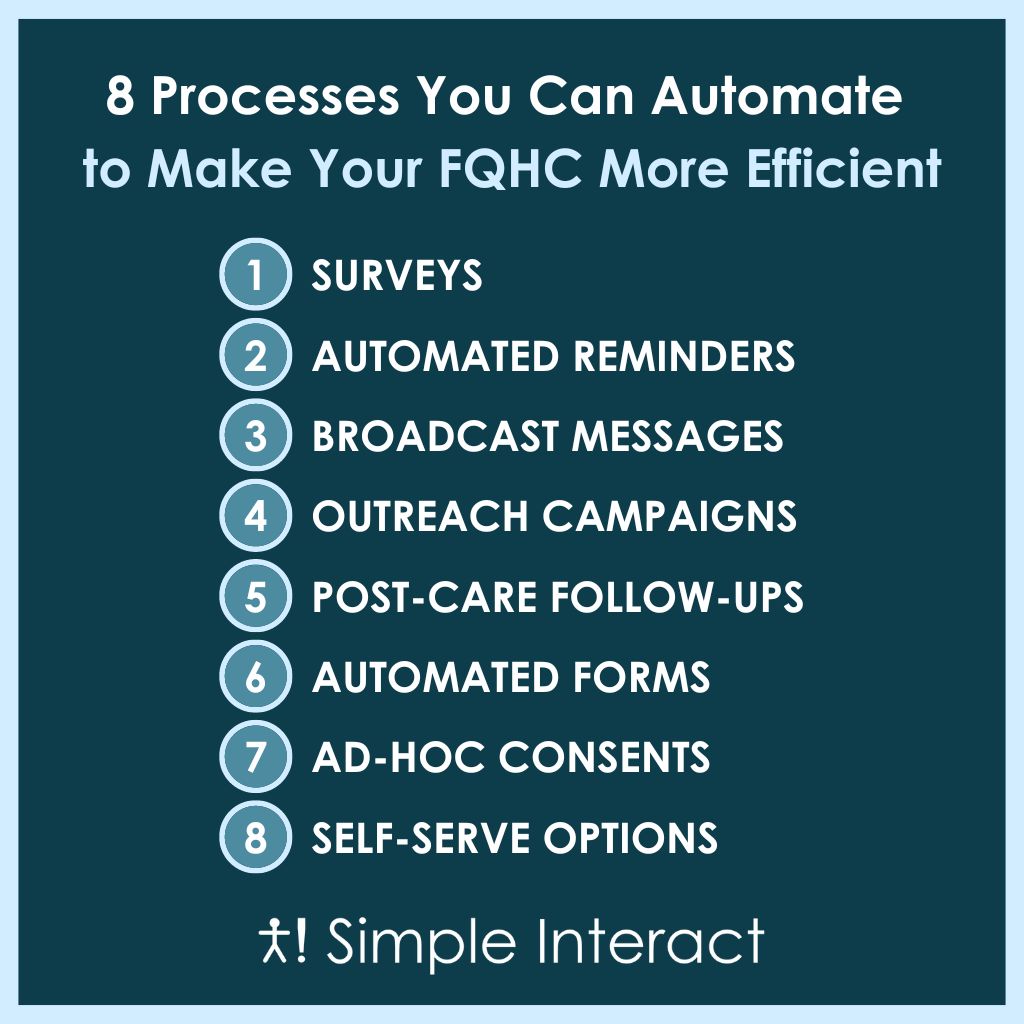 Here are the key processes that should be automated to make your FQHC more operationally efficient and to better serve your patients. 
1. Surveys: In addition to proactively tracking patient satisfaction and improving online reputation for better patient acquisition, FQHCs also need a faster collection of reporting data to meet funding requirements.
For example, you may need to capture patient satisfaction data for annual HRSA (Health Resources & Services Administration) reporting, or quarterly specialist surveys for NCQA (National Committee for Quality Assurance) reporting.
You need these surveys designed, implemented, and executed in a short order. You need a sufficient number of patients to participate in these surveys, and you need to access usable survey data to produce timely reports. This is where automation can make a huge difference.
2. Automated Reminders: By automating a variety of patient reminders, you can streamline your workflow, reduce the burden on your staff, keep patients informed, and meet compliance standards for your funding.
Here are a few examples of reminders that an FQHC would want to automate:
Appointment reminders: You can automate messages to remind patients of upcoming on-site, video, or audio appointments. Different types of reminders can accompany different appointment types, providing mapped directions for in-person visits or links for telehealth appointments, for example. Patients can also confirm, cancel, or request to reschedule appointments directly from the reminder.
Transportation reminders: Some of your patients likely need transportation assistance to make it to their medical appointments. An automated reminder is an easy way to make sure they have all the information they need.
GFE (Good Faith Estimate) notifications: Uninsured and self-pay patients are more likely to seek medical care at an FQHC. Since the No Surprises Act requires medical facilities to provide advance estimates for medical care costs, automated reminders can help meet compliance needs.
COVID-19 messages: Let your patients know of any screening policies in place or when a new COVID-19 booster shot is available.
Vaccine reaction feedback: Gather patients' reaction history before scheduling a vaccination appointment.
It's important to have multi-language support (provided with Simple Interact) to ensure your patients receive reminders in their preferred language.
3. Broadcast Messages: Automated broadcast messages help keep your patients informed about things like:
Incidental closures, inclement weather closures, and temporary office closures
An office or clinic running behind schedule
Switching to telehealth appointments
Rescheduling appointments because of staff shortages or inclement weather
New location announcements
By opting for automation, you'll significantly reduce the burden on your staff to get this information to your patients in a timely manner.
4. Outreach Campaigns: As an FQHC, you understand the importance of outreach campaigns for issues that affect your patient population. You can automate campaigns to facilitate health interventions for high-risk patients, population health management, and financial support for qualifying patients. 
Here are examples of outreach campaigns you can automate for specific patient populations:
Health risk assessments
BCCP screening for breast and cervical cancer
Colorectal cancer screening reminder
Mammogram screening reminder
Follow-up blood testing
Flu shot reminder
COVID-19 vaccination status request
City Income Verification paperwork
Sliding fee schedule eligibility application request
Medication registration information
Again, for all these automated campaigns, it may be vital that your patients receive messages in their preferred language.
5. Post-Care Follow-Ups: Automating post-care follow-ups not only ensures that every patient gets the care they need, but it also demonstrates to the HRSA and other funding agencies that your FQHC is fully compliant with all required policies and procedures.
A few examples of post-care follow-ups include:
Testing status check
Referral processed notification
Referral status check
6. Automated Forms: When you automate patient forms, you'll notice an improvement in patient workflow pretty much right away. You'll also experience more consistent data capture, a reduction in mistakes due to human error, and a significant reduction in the burden on your staff.
Streamline patient forms by grouping them in sets according to appointment type. For example, a New Patient Intake Packet likely includes:
Legal forms
Medical history
Image capture of insurance cards
Context-based history of present illness (such as medical or dental)
Consent forms
Custom forms like learning assessments, SDOH, socio-demographics, previous medical testing, family risk assessment, and more
Established patients and telehealth patients will receive their own set of relevant forms through the automated messaging. All patients can then use digital check-in for things like verifying their personal, medical, and insurance information, updating legal forms, filling out custom forms, and copayment capture.
7. Ad-Hoc Consents: If a new situation comes up, such as needing consent to treat a minor, ad-hoc messages can be critical. Staff can have patients sign ad-hoc consents right from their device or via on-site tablets in your building.
Examples of such ad-hoc consent forms are:
Consent to treat a minor
Financial responsibility agreement and consent to treat
Primary care provider insurance waiver
Personal representative consent
Release to obtain records
Prescription pickup authorization
Medical records pickup authorization
Adult immunization consent
Child immunization consent
Authorization for designation of parental consent
Designation of representative
Authorization to disclose medical records
8. Self-Serve Options: One of the easiest ways to make sure your FQHC runs efficiently is by giving your patients self-serve options whenever possible. When patients accomplish things like requesting an appointment or requesting a prescription refill without needing to call your office, you improve patient satisfaction and patient access. These requests can be queued up in a task management dashboard, streamlining the workflow for your staff — a definite win-win!
Operational Efficiency With Automation
Automating key processes can help your FQHC run as efficiently as possible while also allowing you to be nimble to change. Not only will you be able to better serve your patients, but your staff will be less burdened, and you'll ensure your health center can meet funding requirements in a timely manner.
If you'd like to start a conversation about what automation would look like for your FQHC, get in touch. We'd love to talk.
Recent Posts
Categories
Archives