7 Questions to Ask Before Choosing an Automated Patient Appointment Reminder Service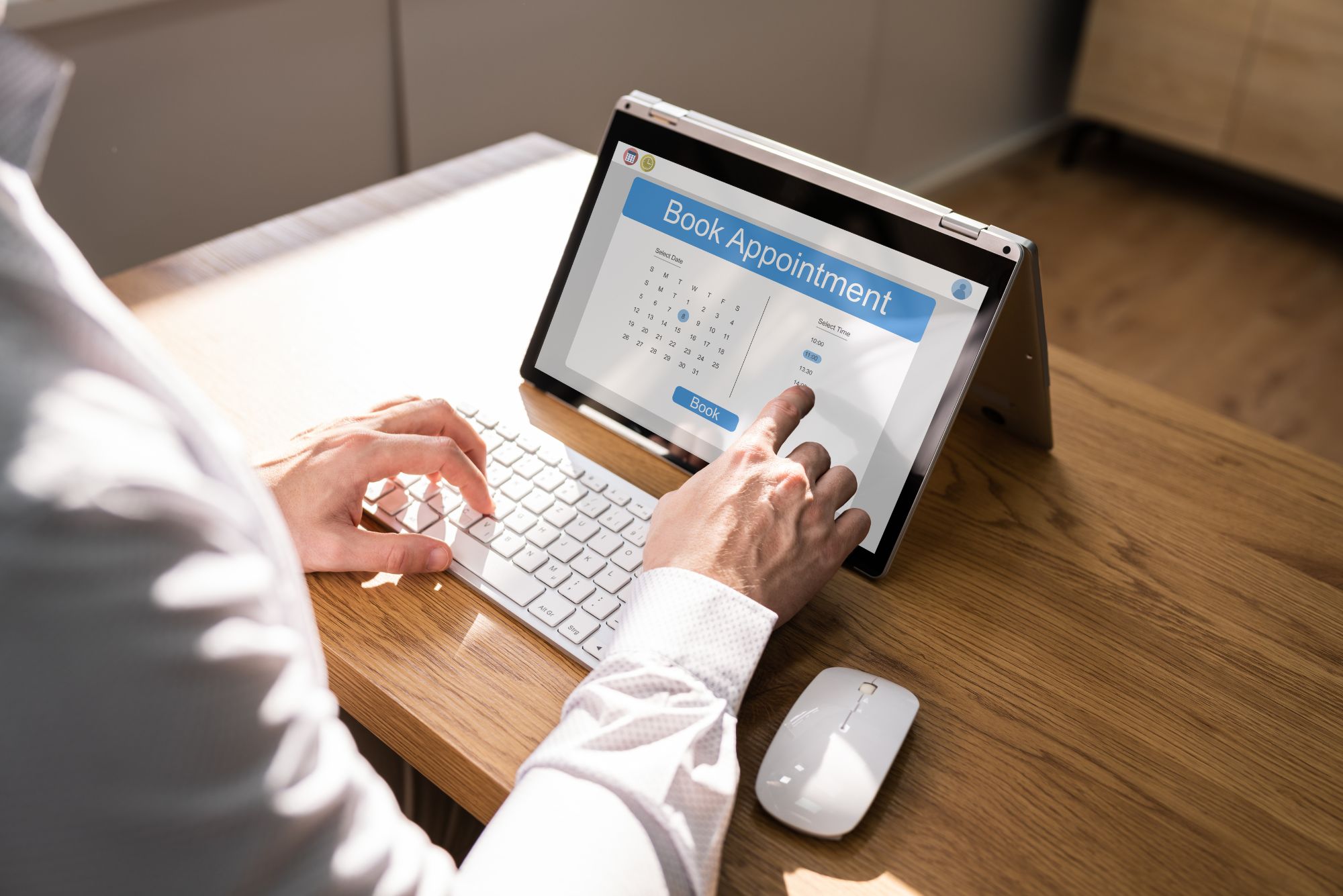 According to Forbes, patient no-shows cost the United States' healthcare system more than $150 billion every year.
That's a staggering figure, but a little hard to identify with on a practical level. To get more personal, individual physicians lose an average of $200 per unused time slot. For far too long, we've left so much money on the table by not finding a solution for this.
On top of the pervasive no-show problem, patients who show up unprepared or uninformed for their appointments also cause revenue loss. If they haven't followed instructions on how to prepare for their procedure, for example, they're going to have to reschedule — at which point they might as well be a no-show.
The answer to this problem might not be as complicated as you think. The simple act of switching your facility from manual to automated patient appointment reminders can be a huge step in the right direction — but only if you choose the right platform.
Before you make the switch from manual to automated patient appointment reminders, ask these seven important questions.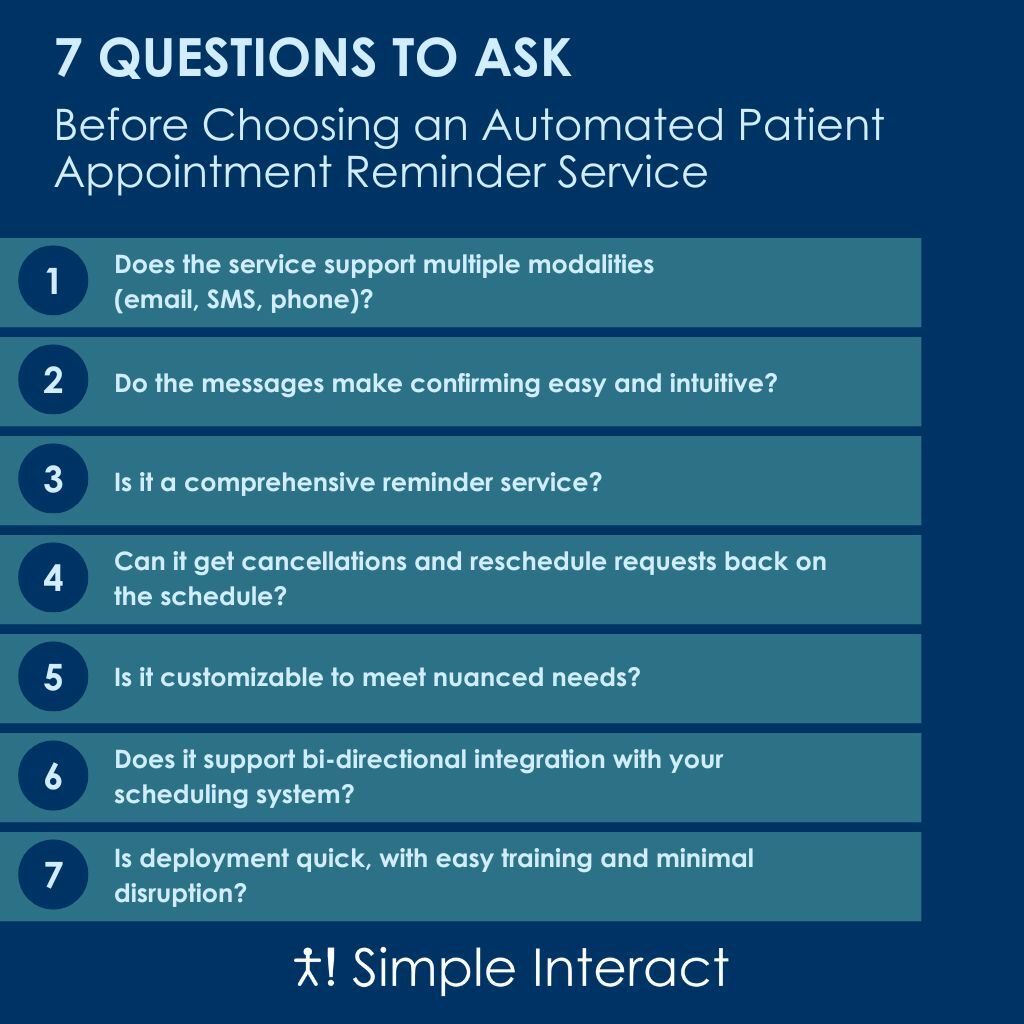 1. Does the service support multiple modalities (email, SMS, phone)?
This will sound obvious, but for appointment reminders to work, they need to reach the patients. To that end, it's important not to depend solely on one channel of communication.
Text messages are by far the most effective way to reach most patients, though email can also work well. Today, people have their smartphones on them at all times, so they often receive a text or email reminder as soon as it's sent. Timely messages help patients remember and adequately prepare for upcoming appointments, decreasing no-shows and appointment leakage.
Clearly, a good reminder service needs to provide SMS messaging. But what if a patient decides not to provide their mobile number? You'll need an alternative way to reach them.
The most effective patient appointment reminder services collect both email addresses and phone numbers. You have the option to use text messaging, email, or phone calls to reach as many patients as possible.
2. Do the messages make confirming easy and intuitive?
Beyond reaching patients, you'll also want as many patients as possible to respond to your reminders.
Clear, understandable messages with simple, intuitive calls to action are essential features for effective patient appointment reminders. To actually get patients to participate, a service must make it extremely easy for them to confirm their appointment from any device in one quick step.
This goes along with the idea of accessibility, which is becoming increasingly important for effective patient engagement. Participation should be as easy as possible, regardless of age, preferences, or device. 
When it comes to business impact and your bottom line, the difference between a 50% and a 70% auto confirm-rate is astronomical.
3. Is it a comprehensive reminder service?
Patient appointment reminders aren't just about reminding patients that they have an upcoming appointment. They should also offer patients the ability to easily confirm their appointment, cancel the appointment, or request to reschedule.
The system should also support additional reminders that patients may need, such as pre- or post-appointment instructions, to improve patient awareness and adherence. If a patient doesn't know they shouldn't eat after midnight, for example, you'll have to reschedule their procedure when they show up after a hearty breakfast.
4. Can it reduce appointment leakage by getting cancellations and reschedule requests back on the schedule?
It's inevitable that patients will sometimes need to reschedule or cancel an appointment. When they do, a good appointment reminder service will make it easy for staff to know exactly WHO canceled, WHAT appointment type it was, and WHEN the patient wants to reschedule.
The right service will quickly process all that information and make it available to your staff. They'll be able to see the type of appointment, and the patient's preference of times and dates for their reschedule request. Simple Interact, for example, queues this data into a user-friendly task management system for staff to review and process at their convenience.
5. Is it customizable to meet nuanced needs?
Every medical facility has unique challenges related to their specific type of services, location, and patient base. Within each facility, too, different appointment types have varying needs. To be effective, patient appointment reminders need to be customizable to meet these nuanced cases.
Perhaps you offer on-site patient appointments as well as video and audio telehealth visits. Custom reminders can include directions to your location for on-site visits, or a link or phone number for telehealth appointments. Facilities that serve patients who might need transportation services, like FQHCs (Federally Qualified Health Centers), can group reminders together with instructions covering how and when patients will be picked up.
The best patient appointment reminder services will also incorporate multi-language support, so every patient can receive messages in their preferred language.
6. Does it support bi-directional integration with your scheduling system?
Whether a patient confirms an appointment, cancels, or requests to reschedule, this information should be accessible to your staff right away. Bi-directional integration means all patient responses trigger updates both within the service and in your scheduling system. This allows your staff to view the information they need and take any necessary next steps right away.
7. Is deployment quick, with easy training and minimal disruption?
One of the biggest hurdles to implementing any new system is deployment. How much time will it take? How difficult will the training be? How disruptive will it be to both staff and patients?
Beyond capability, a great patient appointment reminder service needs to be easy to deploy. If it needs significant training before your staff can even use the service, it's likely too disruptive to be feasible.
If, however, the service is easy to integrate into your staff workflow and training is simple, you can roll it out in phases, and you'll start seeing a return on your investment quickly.
Next Steps
Patient appointment reminders are an important step toward reducing no-shows and stopping appointment leakage. Before you choose a service, though, remember to ask these seven questions to help you evaluate the options and make a choice that makes a measurable difference in your staff workflow, patient engagement, and overall revenue.
If you'd like to know more about Simple Interact's automated patient appointment reminder services, get in touch. We're proud of our platform's versatile, easy-to-use services and would be happy to answer your questions or provide a demo.
Recent Posts
Categories
Archives