7 Questions to Ask Before Choosing a Digital Patient Intake Solution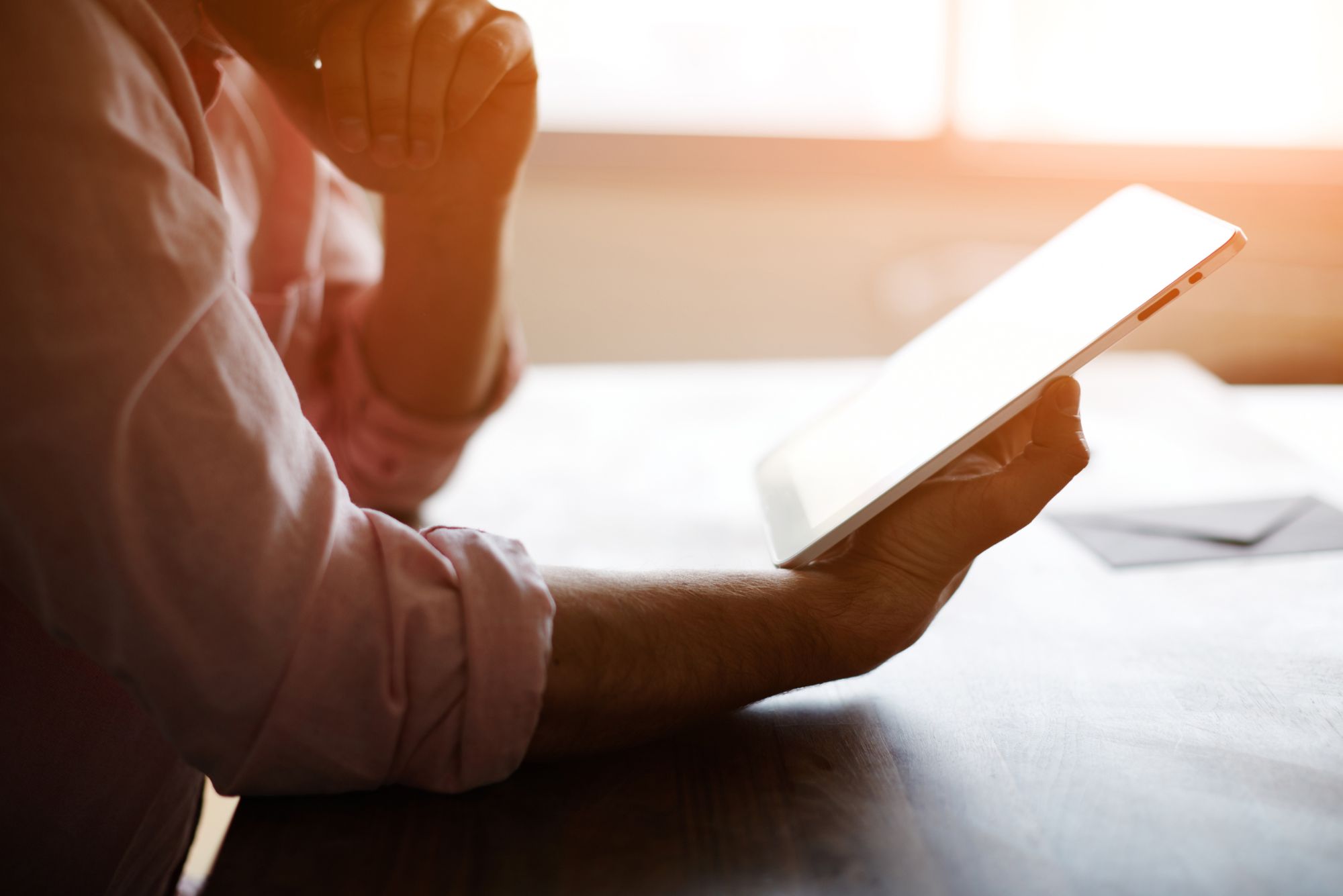 The patient intake process plays a vital role in every healthcare business — not just in administrative efficiency, but also in the patient experience.
As new and returning patients schedule appointments, a wide range of data must be collected, including signed consent forms, insurance information, medical history, and more.
To improve efficiency and reduce costs throughout this process, more and more hospitals, medical practices, practice groups, and FQHCs are transitioning from paper-based to digital intake solutions. And with more than 20 digital intake solutions currently available on the market, finding the best-fit solution can be a difficult task.
A big way practices struggle in their search is by viewing all digital intake solutions as though they're the same. As long as a digital option is offered, patients will use it… right? Unfortunately, this isn't true. Offering a digital option for completing intake forms is only one part of the challenge. The digital intake solution you choose must also encourage maximum patient participation.
For example, let's say 60% of your new patients complete their forms digitally. That means 40% are still using paper forms, which come with high costs and inefficiencies. On the other hand, achieving close to 90% patient participation makes a tremendous difference in operational efficiency and overhead costs.
While most of the solutions on the market promise similar benefits and features, some of the more nuanced differences can determine how many patients actually utilize the digital forms. If you're looking to accomplish a truly paperless patient workflow, you must first recognize that not all digital form solutions are created equal.
So which digital patient intake solution will your patients embrace? Here are seven questions to ask in your search.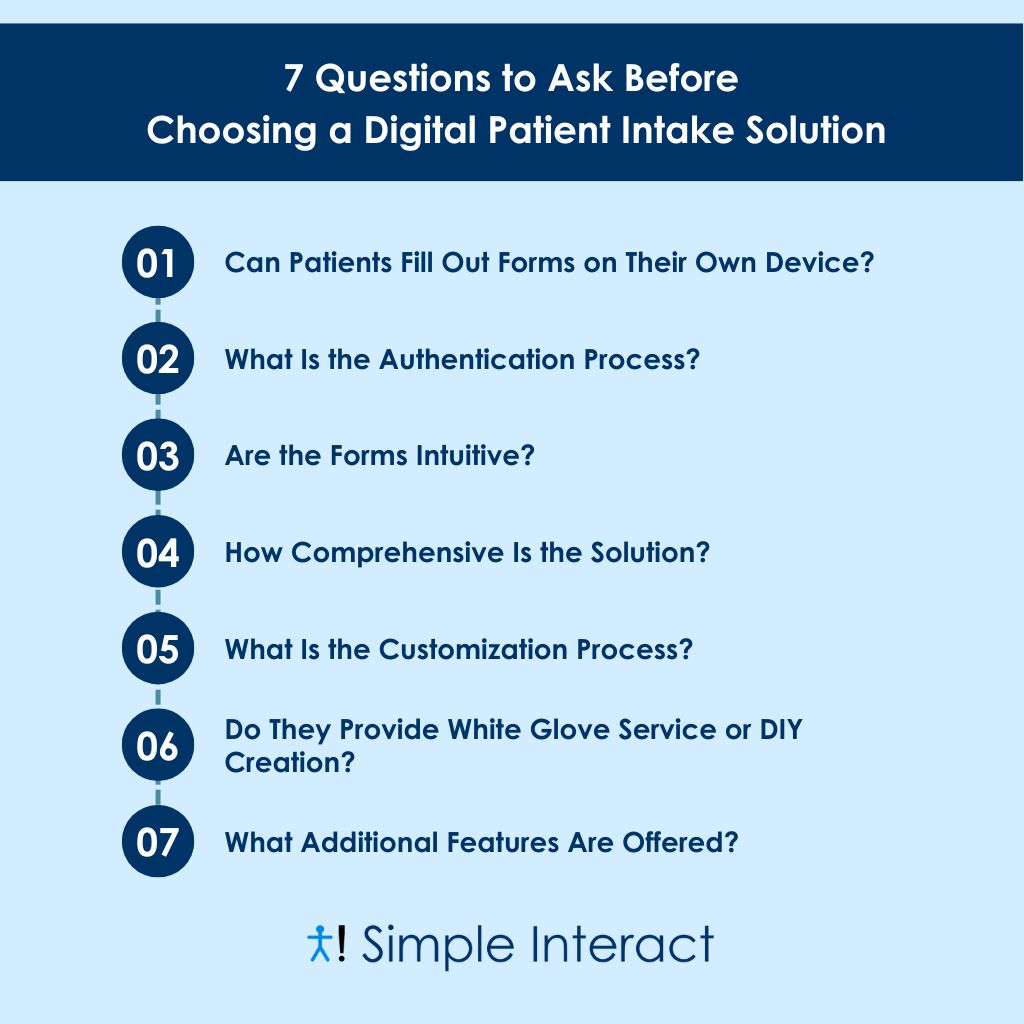 Question #1 — Can Patients Fill Out Forms on Their Own Device?
Since everyone carries a smartphone with them at all times, your patient engagement rate is largely determined by how mobile-friendly your digital patient intake solution is.
It should be able to automatically email or text intake forms to new patients and allow patients to complete forms directly from their smartphone or tablet. Having a mobile-friendly option ensures your patients can complete required steps wherever they are, at their own convenience.
Avoid digital patient intake solutions that require patients to download an app. An app complicates things for a user. They may never download it, or if they do, they may forget it's on their device, delete it, or forget to update it.
Every modern device has email, text, and an internet browser natively built in, and it's best to find a digital patient intake solution that solely uses these three things.
Question #2 — What Is the Authentication Process?
Many digital patient intake solutions require users to create a username and password. This type of authentication is riddled with problems and is likely to require more involvement and intervention from your staff, not less.
If someone isn't using a platform at least twice a day, they'll have no incentive to remember their password — we call this "the toothbrush test." For example, your patients are much more likely to remember their Facebook password than the password for their patient intake app, which they'll use a few times a year at most.
Instead of requiring a dedicated login password, an easy-to-use patient intake solution asks for easily verifiable information, such as the patient's date of birth or zip code. This individual-based knowledge provides necessary authentication and moves the process along without hassle.
Question #3 — Are the Forms Intuitive?
Just because a patient makes it past the authentication process doesn't mean they'll make it to the end of the intake process.
Digital patient intake solutions with the highest participation rates are typically designed by UX (user experience) experts who base layout and design decisions on behavioral studies and data to increase the chances a patient will complete a form once they start.
The user experience for patient forms is critical to success and addresses potential roadblocks before they become a problem, taking multiple considerations into account:
Have poorly worded questions or answers that might confuse patients been avoided?
If the patient doesn't have an answer to a specific question, is there an option to move on?
Is the text on the screen easy to read (especially for patients with poor eyesight)?
Have the widgets on the screen been tested for different screen sizes or potential "fat finger" issues?
The right digital patient intake solution must also consider the needs of all demographics when designing the look and functionality of required forms.
Remember, the credentials of those who design the solution say a lot about how intuitive the products are. For instance, at Simple Interact, our customer implementation team are all user experience experts. (Our VP of User Experience even has a Ph.D. in experimental psychology.)
Question #4 — How Comprehensive Is the Solution?
Medical facilities have a wide range of needs, and the best forms will include options for all the types of information you may want to collect. That information can include:
Basic patient information, including demographic information, contact information, insurance, emergency contacts, pharmacy, current physicians, and more.
Legal forms
Medical history
History of present illness
Health screenings (ex: fall risk assessment, PHQ-9)
Patient education
Consents
Image capture forms
Payment capture
When the solution is extensive and complete right from the start, you and your staff won't have to waste time on customization.
Question #5 — What Is the Customization Process?
No matter how comprehensive a form solution already is, there is always a possibility that you will come up with a use case that's new. For example, you may need certain forms or form sets that are:
Built for certain appointment types
Presented only under specific circumstances
Filled on an ad-hoc basis
Intended for providers only
Designed to capture additional signatures
In these special circumstances, you'll need a digital patient intake solution that supports significant customization that doesn't entail major delay or effort.
A common reason why customers have switched from other vendors to Simple Interact is that other solutions weren't able to flex beyond common use cases. Anything out of the ordinary required their vendor to make code changes, which typically meant waiting for a future code release, or worse… their request simply being ignored by a big box vendor.
Choosing a solution that provides the most efficient means of creating and updating patient forms will make life easier for you, your staff, and your patients.
Question #6 — Do They Provide White Glove Service or DIY Creation?
A do-it-yourself digital patient intake solution may seem ideal, but for busy medical facilities, it's not as beneficial as it sounds.
Creating a set of forms and designing an end-to-end process are highly specialized skills. While you may know exactly what data you need to collect from your patients, the style, design, and function of the form-based solution is a specific science that requires significant expertise.
Instead of a DIY option, look for a solution that provides white glove service. With this level of personal service, all you need to do is explain the specific business need you're trying to address. Experts will create a form-based solution while paying attention to design, patient experience, patient participation, integration, reporting, and staff training.
Personalized service is about more than implementing a few forms for you — it's about getting results for your organization.
Question #7 — What Additional Features Are Offered?
You may want added features that can help you deliver even more value to your business. For example, if the solution comes with forms to capture data related to MIPS measures, it can result in higher MIPS scores and help avoid a related Medicare penalty.
Multi-language support will likely be a priority as well. Many practices see non-English speaking patients, so offering forms in multiple languages greatly improves patient access and the likelihood that intake forms will be completed.
Ready to Get Started?
Digital patient intake solutions are more time-efficient and cost-effective for you and your staff, but only if your patients utilize them.
The digital patient intake solution you choose should make life easier for you and your staff. It should be versatile in handling a variety of needs. This will result in paperless and streamlined processes that make your business operationally efficient.
This isn't an area where you should compromise. The better your intake process, the more engagement you will see from your patients and the more successful your practice will be.
If you'd like to learn more about Simple Interact's digital patient intake solution, contact us today.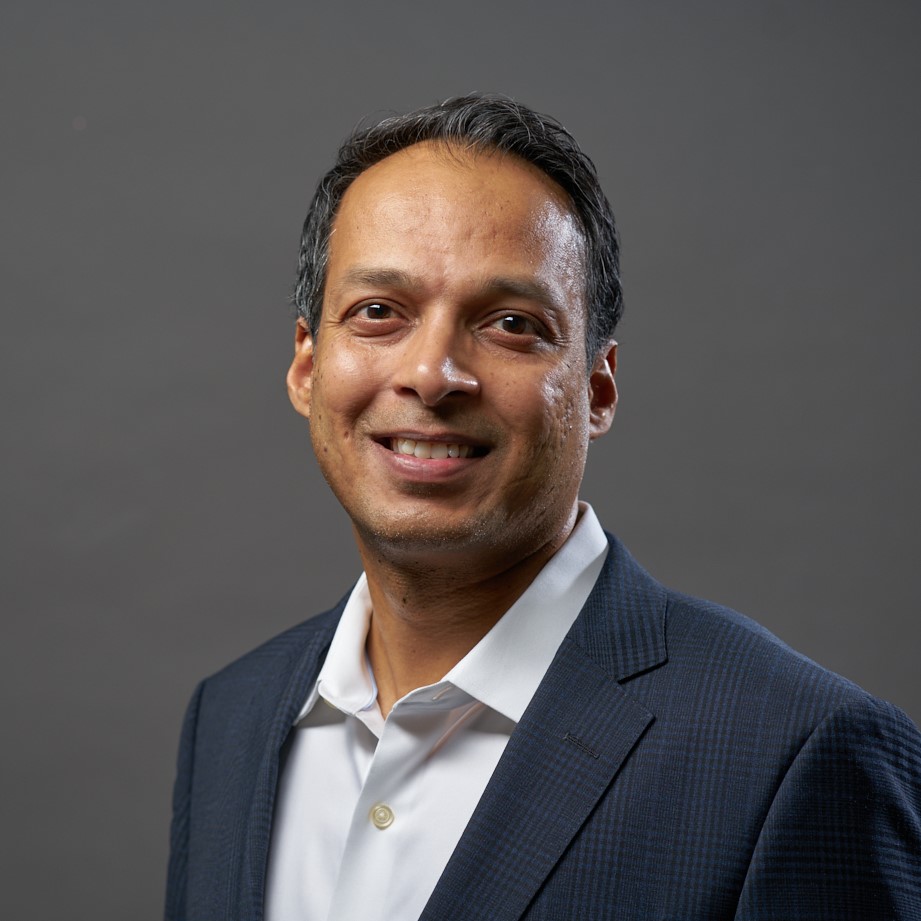 Ravi Kalidindi is the Founder and CEO of Simple Interact, a Business-to-Business (B2B) Software-as-a-Service (SaaS) healthcare technology company that serves physician groups, hospitals, and FQHCs. Customers view Ravi as a trusted partner who can quickly comprehend business problems and suggest "keep it simple" solutions that are effective and easier to maintain over time.
Apart from investing his blood, sweat, and smiles into Simple Interact, Ravi occasionally finds time for his favorite pastimes: travel, golf, and motorcycling.
Recent Posts
Categories
Archives