What Is Veradigm (Formerly Allscripts) and How Does Simple Interact Integrate With It?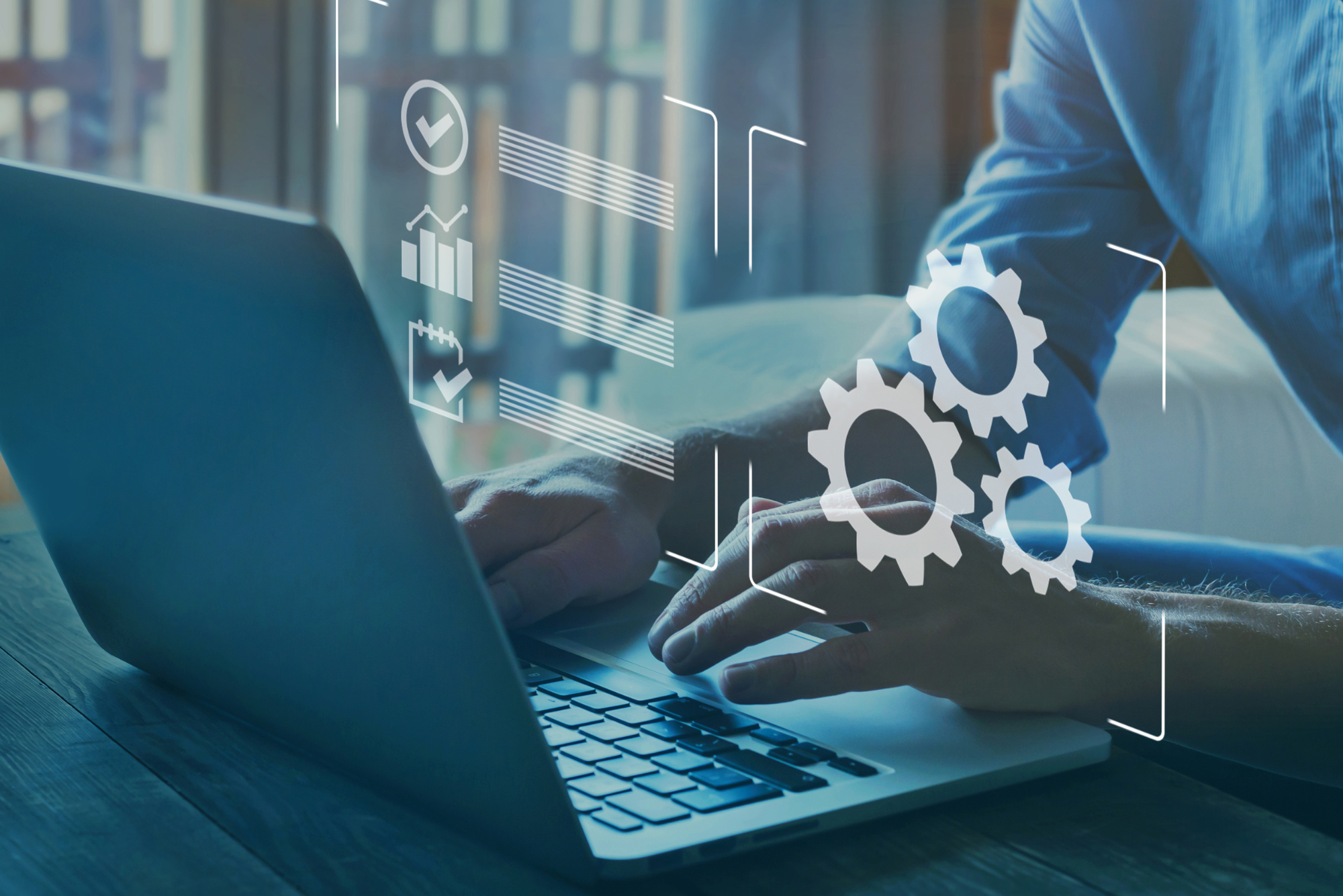 Veradigm (formerly Allscripts) is a popular EHR (electronic health record) system for medical practices, hospitals, and other healthcare facilities. The veteran company Allscripts began transitioning its healthcare solutions to the Veradigm brand in 2022, and on Jan. 1, 2023, Allscripts Healthcare Solutions officially became Veradigm, Inc.
Along with its EHR solutions, Veradigm has an API and ecosystem that allows third-party vendors to become integrated partners to supplement the Veradigm platform with additional services such as digital check-in, patient engagement, patient feedback, and self-service. Certified applications by integrated partners are made available on Veradigm's App Expo marketplace.
Based on the current challenges a Veradigm customer may be facing in their patient workflow, operational efficiency, or profitability, they can choose the appropriate integrated solutions from the App Expo to address those gaps.
How to Choose an Integrated Solution for Veradigm (Formerly Allscripts)
Dozens of vendors offer digital patient engagement solutions for Veradigm, but that doesn't mean they're all created equal. If a solution doesn't actually make tangible improvements and save your staff time and frustration, then it simply won't provide a good return on your investment.
The biggest factor in determining the usefulness of a solution is its depth of the integration with Veradigm. The more deeply integrated a solution is, the more information it can push into the EHR. And the more information it can push, the more time you save.
Some vendors may offer just enough integration with Veradigm to qualify as an "integrated solution," but every additional minute you save on repetitive tasks is a minute you can reallocate to other activities. The effect is cumulative, which means the difference in usefulness between a generic offering and a stellar one is wide.
Because of our commitment to achieving stellar results for medical facilities, Simple Interact committed to creating a deeply integrated application for customers of Allscripts, now Veradigm.
This deep integration thoroughly eliminates tedious, time-consuming tasks, such as manual data entry, to improve operational efficiency. Our front office automation tools help healthcare businesses streamline and speed up the patient workflow — all while saving time and resources you can allocate elsewhere to enhance the patient and employee experience.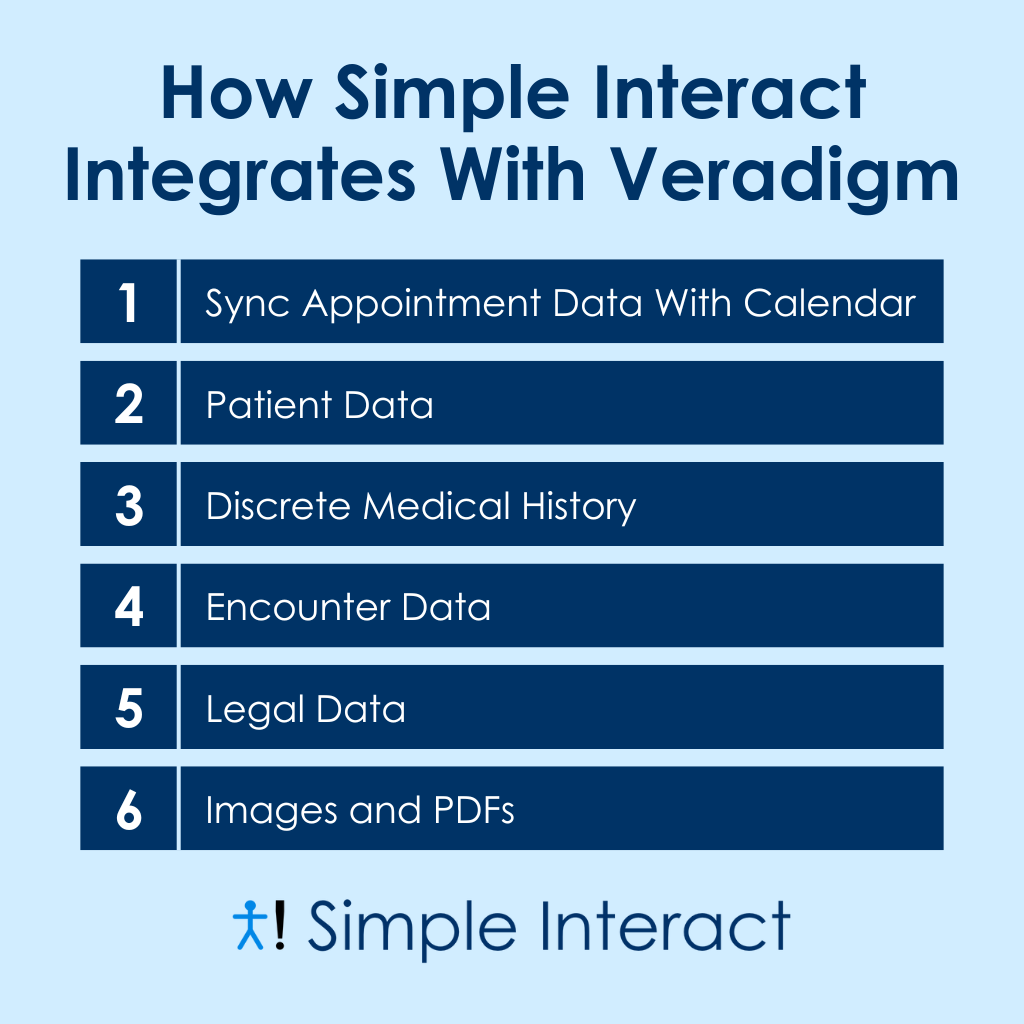 How Does Simple Interact Integrate With Veradigm?
Don't just take our word for it! Below, learn more about the six significant categories in which Simple Interact integrates with Veradigm to offer value to your medical facility.
Integration #1: Sync Appointment Data With Your Calendar
Simple Interact's bidirectional integration with Veradigm means all appointment data syncs smoothly across both platforms. So, when you create, change, or cancel an appointment in Veradigm, the same change is reflected in Simple Interact's calendar. When an appointment is confirmed or checked in with Simple Interact, the changes for the appointment status and notes are immediately updated in Veradigm.
Integration #2: Patient Data
With Simple Interact, patients can quickly and conveniently update personal information, like demographics, contact information, insurance details, emergency contact information, and more. After being updated, this information is immediately pushed to the appropriate sections in the patient's record in Veradigm.
Integration #3: Discrete Medical History
With Simple Interact, patients can also share information about their medical history, including allergies, family history, social history, surgical history, height, weight, and more. Like general patient data, Simple Interact will push discrete medical data into the correct categories on the patient's record on Veradigm. Due to limitations in the API, certain information like vaccinations and medications can only be pushed as part of a PDF.
Integration #4: Encounter Data
After patients check in for their appointment, Simple Interact pushes encounter-related data to Veradigm. This includes information like history of the present illness, review of systems, and screening results, such as a PHQ-9 score. We reduce the burden on physicians by using patient-entered data to autogenerate a health note, and pushing the note into the encounter.
Integration #5: Legal Data
Along with providing a quick and easy way for patients to sign legal forms, Simple Interact also keeps track of the effective dates of all signatures.
When a patient completes a legal form in Simple Interact, the system tracks both the signed date and expiration date. When the patient returns after the expiration date, the system will automatically ask them to sign the form again, helping you easily remain compliant with patient releases.
Simple Interact pushes all legal data through to the Veradigm system, as well.
Integration #6: Images and PDFs
In addition to PDFs of all completed patient forms and signed legal forms, Simple Interact pushes images like patient headshots, insurance cards, or driver's licenses to the correct sections in Veradigm.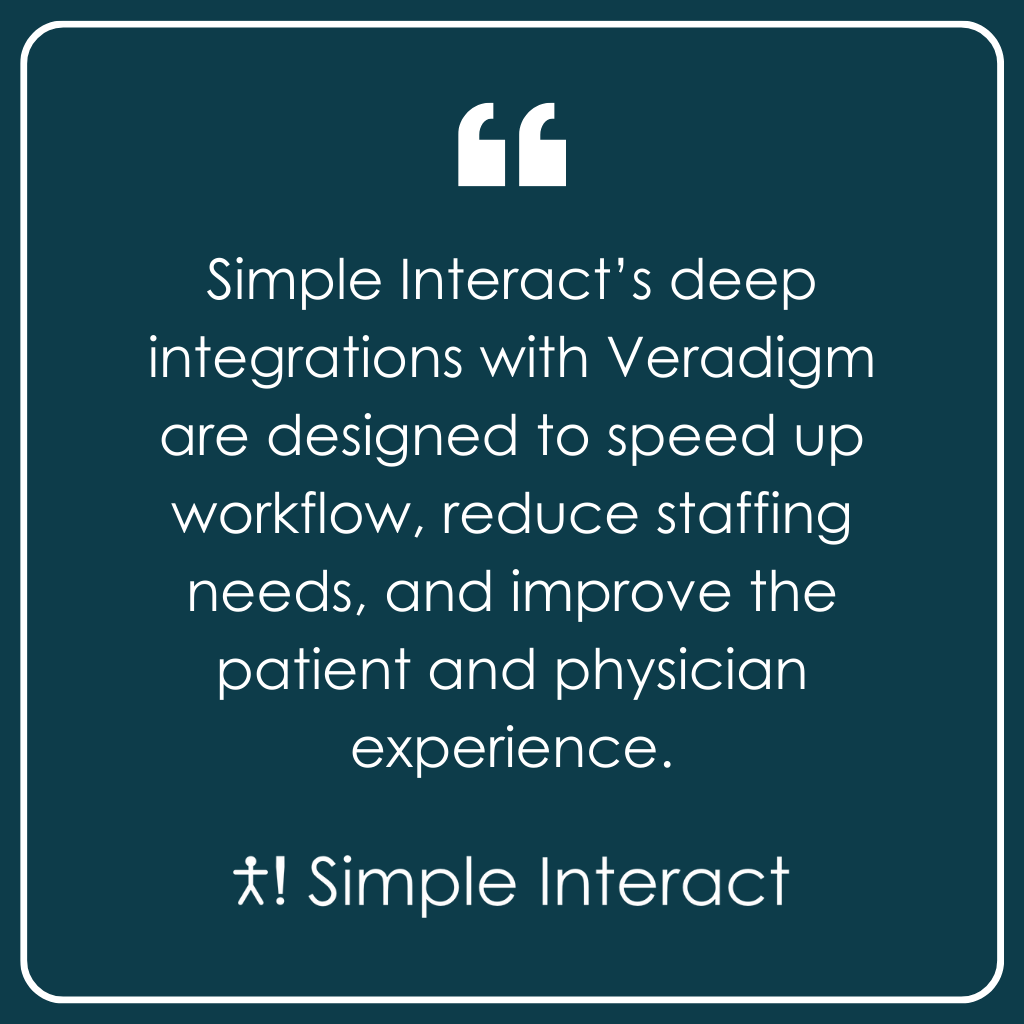 Discover Simple Interact on Veradigm (Formerly Allscripts) App Expo
Simple Interact is available on the Veradigm App Expo marketplace. Simple Interact's deep integrations with Veradigm are designed to speed up workflow, reduce staffing needs, and improve the patient and physician experience. It's a win for patients, physicians, medical assistants and front-office staff, so your healthcare organization can work smarter (not harder) to create a more efficient and satisfying experience for everyone.
If you're interested in learning more, contact us to learn more ways Simple Interact's integration with Veradigm can improve your business's productivity — and profitability.
Recent Posts
Categories
Archives