5 Patient Intake Softwares Compared (and Which Is Right for You)
Traditionally, patient intake has involved stacks of paper, buffer time for patients to fill those papers out, and menial man-hours for staff to input all that information into computer systems.
Today, though, more and more medical facilities are turning to digital solutions for patient intake. Quite a few companies now offer patient intake software to digitize and streamline a once cumbersome process. But how do you know which one is right for your facility?
In this post, we'll look at the patient intake process and compare the pros and cons of the top patient intake software so you can make an informed decision.
The Patient Intake Process
Patient intake collects an enormous amount of information from patients, and the paper can really pile up. Patients often receive forms for:
Demographic information
Contact information
Insurance
Emergency contact
Responsible party
Pharmacy
Current physicians
Legal forms and consents
Visit-specific info such as chief complaint and history of present illness
Medical history such family history, social history, medications, and more
Screenings such as PHQ-9 or fall risk assessment
Patient education and marketing
Image capture
Payment capture
It's not difficult to imagine that this process works more efficiently when done digitally and when completed prior to patient arrival. But how do you choose a patient intake software that patients will actually use? If you can't get the majority of your patients to use your digital solution, you're still reverting back to pen and paper, and will end up having to manage both a paper-based and digital process. And you're stuck paying for a tool you don't fully use.
Some tools offer payment solutions, but their patient intake solution is an afterthought. Others offer solid digital patient intake, but without sufficient customization to enable a truly paperless workflow. Below, we compare five major patient intake solutions to see where the strengths and weaknesses of each lie.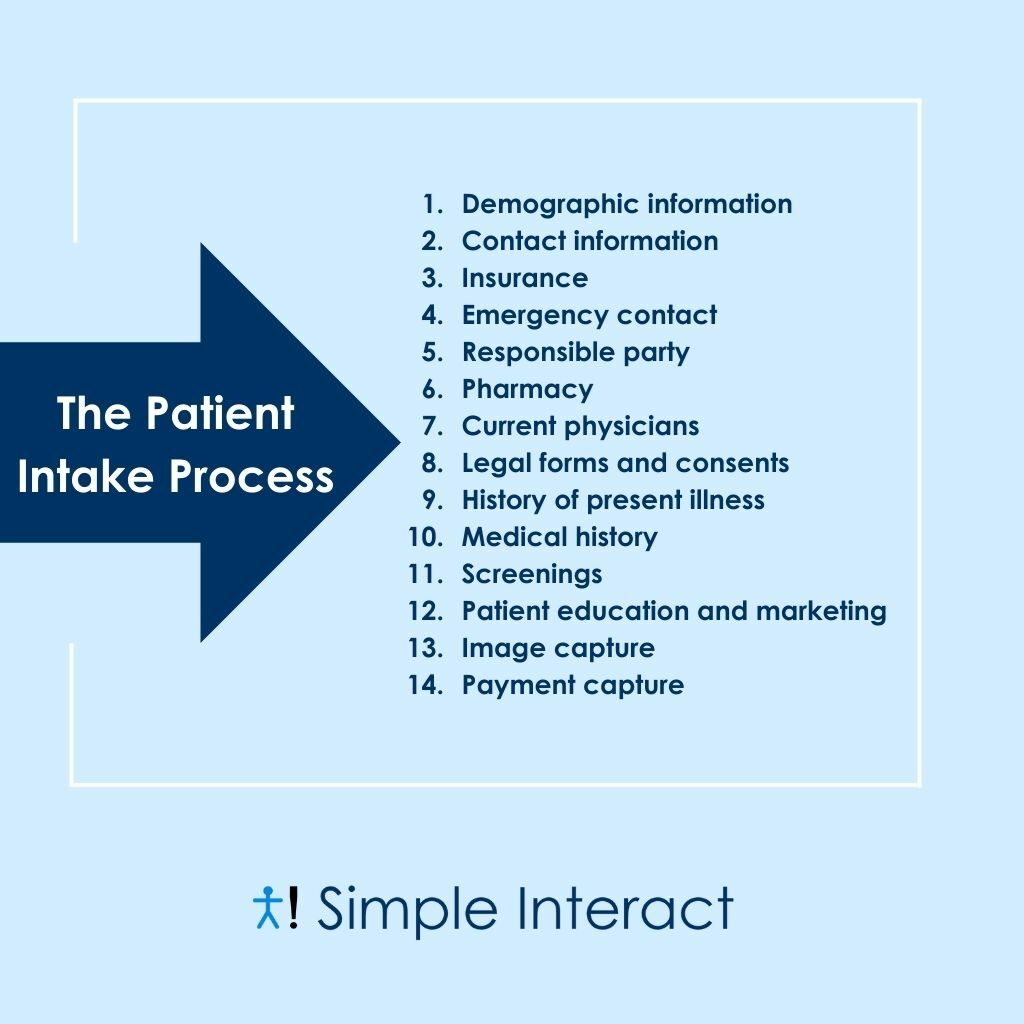 What Are the Options?
We'll evaluate the patient intake software options through the lens of three qualities:
Are they comprehensive?
Are they customizable?
Are they well supported?
Every practice is unique and has their own specific forms and patient data needs. A good digital patient intake solution should provide everything your practice needs, from new patient forms, to established patient forms, to ad-hoc consent forms, to screenings and questionnaires, to post-care forms — anything that captures the data you require for providing excellent care.
Besides a comprehensive roster of forms, the best software solutions give you the ability to customize forms without needing to alter code or wait months for a big-box company to process your request. And behind those customizations should be a company that empowers you to improve through active support — offering best practices advice, tracking your results, and suggesting changes to improve utilization.
Phreesia
Phreesia is the largest big-box vendor providing a digital patient intake solution in this space. The company started with digital check-in and payment collection, and has added services over the past few years, including mobile-friendly solutions. Overall, it's a good sign that the software continues to improve.
Pros
Well-established. Phreesia has been around for quite a while and has stood the test of time.
EHR integration. Phreesia integrates with many EHR (electronic health records) systems.
Comprehensive. By adding services like reminders and surveys over time, they've become a fairly comprehensive solution while still offering the digital intake, check-in and payment collection services they started with.
Cons
Learning curve. Phreesia requires office staff to work with a completely new system and learn the company's dashboard, resulting in a steep learning curve.
Depth of integration. In some cases, the EHR integration may not be very deep.
Older UX. Since the UX (user experience) and design ethos come from an older, more established company, Phreesia patient participation prior to arrival is reasonable but has room for improvement. This results in a significant percentage of patients completing intake and check-in on onsite tablets, which can really slow down patient workflow.
Clearwave
Clearwave is another big-box vendor that started out as a standing-kiosk-style check-in process provider. Over time, the company has added mobile-friendly solutions and acquired other companies, whose tools they merged with the Clearwave software.
Pros
Well-established. Clearwave is an established company with a good market share, so you don't have to worry about them being here today and gone tomorrow.
EHR integration. Clearwave software can integrate with many EHRs.
Comprehensive. They offer fairly comprehensive solutions to medical practices, mostly through their acquisitions of other companies.
Cons
Not easily customizable. Clearwave software isn't as versatile or customizable as other solutions.
Depth of integration. Again, the EHR integration may not be that deep.
Slow to change. Because of the company's size, they are slower to make improvements to their forms and processes.
Simple Interact
Simple Interact is an all-in-one front office automation platform that includes digital patient intake and check-in forms, patient engagement solutions, contactless healthcare options, and scheduling task automation. It also facilitates patient feedback and online reviews to improve online reputation.
Pros
Mobile-first. Simple Interact focuses on getting patients to complete tasks, such as filling forms, on their personal devices prior to arrival.
Comprehensive. Simple Interact enables a truly paperless patient workflow by addressing a full gamut of form needs (intake, check-in, ad-hoc consents, post-care forms, and even provider-filled request forms) in addition to front office automation in general.
Versatile and customizable. Built to handle nuanced customer needs, the software is extremely configurable and customizable, and doesn't require coding changes to accommodate custom needs.
Quick turnaround. Simple Interact offers a white glove experience with fast turnaround times. A customer implementation team of UX (user experience) experts translates business needs into fully tested form solutions. As an example, a custom form packet was delivered in a few weeks to address a customer's business need which was kept pending for a few years by a previous vendor.
EMR integration. Simple Interact can automatically push any type of data into any EMR (electronic medical records) system. The only limitations are within the EMR itself. As an example, Simple Interact's ability to capture and push data related to MIPS measures is above and beyond what other vendors can typically do.
Results-oriented. Simple Interact focuses on results, constantly collaborating with customers to identify what's working, what isn't, and where improvements can be made. A fast and streamlined patient workflow cannot be accomplished without this focus.
Support. Simple Interact provides top-of-the-line customer service and communication, providing training, support, best practices for high utilization, further customization, and more.
Cons
Third-party payment capture. Simple Interact does not use in-house payment capture. Instead, the company has opted to use third-party experts in the payment space, like InstaMed and PayGround, to ensure fast, secure payments.
Health iPASS
Health iPASS started as an onsite payment solution, later adding mobile-friendly options and other features. The company's primary focus is collecting payments from patients.
Pros
Secure payment capture. Because the company's primary focus is on payment collection, it's a trusted and reliable payment capture software.
Cons
Limited services. Health iPASS does not offer comprehensive patient intake options.
Low patient utilization. Similar to Phreesia, patient participation prior to arrival is not as high as with other options.
Relatient
Relatient is primarily a patient engagement solution that started with the simple goal of using automated reminders to reduce no-shows. They then added more services, such as messaging, surveys, check-ins, payment capture, and appointment self-booking.
Pros
Simplicity. A relatively simple software for patients to use, Relatient does not require portals, app downloads, or usernames and passwords.
Appointment self-booking. Relatient acquired Dash, an appointment self-booking tool, which is a significant differentiator from other software options.
Cons
Limited and new services. Relatient's patient intake functions are quite limited. The company recently added registration and check-in services, but they aren't as extensive or customizable as other vendors.
Conclusion
The patient intake software you choose should empower you to constantly improve your patient intake process as well as your practice as a whole. By considering the pros and cons of the top five current software options, you can make the best choice for your facility — and avoid purchasing a tool that sits on the shelf while your staff returns to menial tasks and time-consuming pen and paper.
Recent Posts
Categories
Archives