Case Study: Lamprey Health Care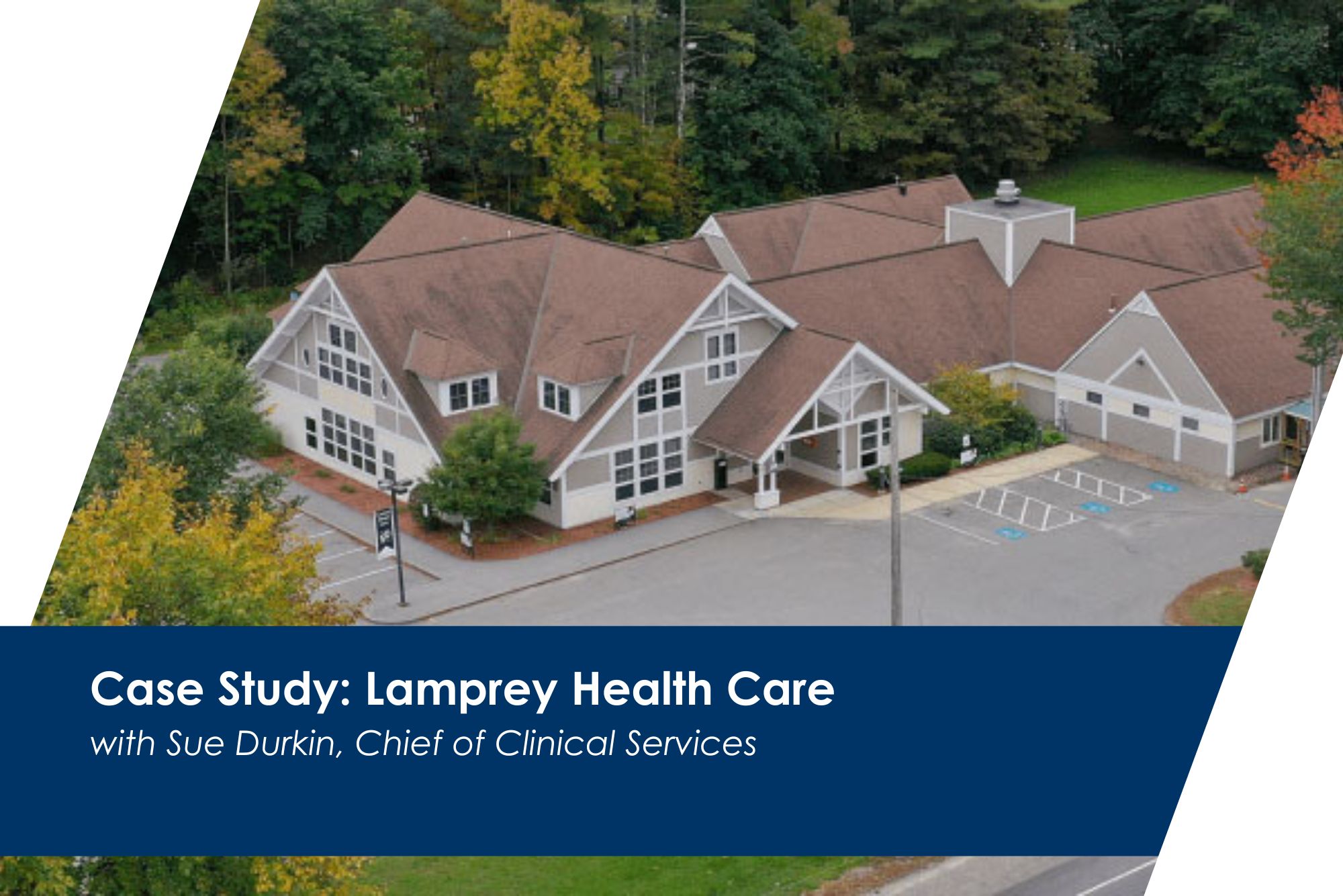 Sue Durkin is Chief of Clinical Services at Lamprey Health Care, a leader in community health with several locations in the southern area of New Hampshire.
Founded in 1971 as an information and referral service, the need for additional community-based service providers quickly became apparent. Lamprey Health Care opened its first primary care office in 1981 and has since continued to expand its programs to new locations, with medical centers in Nashua, Raymond, and Newmarket.
As a Federally Qualified Health Center (FQHC), Lamprey Health Care is dedicated to providing quality primary and preventive health services to under-represented populations regardless of their financial means. This community-focused mission was a perfect match for Sue, a fierce patient advocate with a 25-year nursing and administration career, who joined Lamprey in 2018.
With the help of her team, Sue was determined to make improvements that would enhance patient communication and ease the burden on her staff.
The Challenge: Poor Communication
When Sue joined Lamprey Health Care, she noticed a plethora of issues that hurt the team's ability to provide excellent patient care.
Workplace shortages kept staff from completing tasks in a timely manner — there simply weren't enough hours in the day to get everything done. Much of the time the staff did have was spent on inefficient communication with patients, waiting for them to return phone calls or playing games of phone tag.
Sue saw an opportunity to streamline this process and improve back-and-forth communication between patients and staff.
Additionally, the staff struggled to keep up with patient follow-ups, which were tracked by a few different systems. When patients were referred to a specialist or connected to a hospital for a specific diagnostic test, the Lamprey Health Care was then tasked with making sure the patient actually went, and charting that information. But because communication with patients was so slow, this information often went unreported.
Knowing there had to be a better way, Sue gathered her team and researched her options.
Could One Solution Address All These Issues?
Sue and her team researched several companies with experience providing patient engagement tools to medical centers just like Lamprey Health Care. Ultimately, they chose Simple Interact, largely because of the simplicity of the platform.
Simple Interact helped the staff streamline patient communication, which led to an increase in patient engagement and satisfaction. Communication can now happen in real time, and the platform is easy to use for both staff and patients.
According to Sue, this couldn't have happened without the Simple Interact team, with whom she is consistently impressed. She and her staff weren't forced to implement the new platform on their own. The Simple Interact team stayed in their corner, helping every step of the way and problem-solving together with the Lamprey team.
Simple Interact understands the struggles of growing medical centers and genuinely cares about implementing effective solutions to meet patient needs. "We are one," Sue says. "When we're working with them, we're not the Lamprey Health Center and Simple Interact. We're all working together."
Has Simple Interact Made a Difference?
Now that Simple Interact has streamlined Lamprey Health Care's communication system, Sue and her team are using much less paper and spend much less time scanning documents into their electronic health record.
They no longer waste valuable time waiting for return calls and hunting down information from patients. They now text and email patients directly, which has led to much faster results and a marked increase in patient engagement. Patients can now access the system in their own time, update their demographics, and respond to urgent messages.
Lamprey Health Care also implemented Simple Interact's feedback feature. After each appointment, patients receive prompts to provide feedback about their experience. This has been especially helpful for the administrative and medical staff, who use this feedback to improve the patient experience. Patients have responded positively to this feature, as they value a medical establishment that actively seeks open and honest feedback.
Patients also receive prompts to connect their feedback to a Google review. This feature has dramatically improved Lamprey Health Care's online reputation — all three locations boast ratings of at least 4.5 stars.
Why Do Business With Simple Interact?
Sue has deeply appreciated the Simple Interact team's attention, flexibility, and commitment to improving Lamprey Health Care. The implementation process has been easier than Sue ever imagined, and she's incredibly happy with how the intuitive platform has simplified workflows and improved efficiency.
Sue is looking forward to implementing several more features of the platform to continue to improve patient engagement, communication, and staff efficiency.
In the near future, she plans to send preventive care reminders directly to patients, a process that was previously very time-intensive. Sue also plans on using Simple Interact's software to improve the medication refill process, collect co-payments, and let patients self-schedule appointments — tasks that, without the right software, require a lot of time and manpower.
Simple Interact has already changed Lamprey Health Care for the better, and Sue is confident the platform will continue to improve their efficiency and provide new and better ways of helping underserved populations.
To learn more about Simple Interact or request a demo, get in touch! We'd be happy to answer your questions.
Recent Posts
Categories
Archives