6 Key Strategies for Healthcare During a Pandemic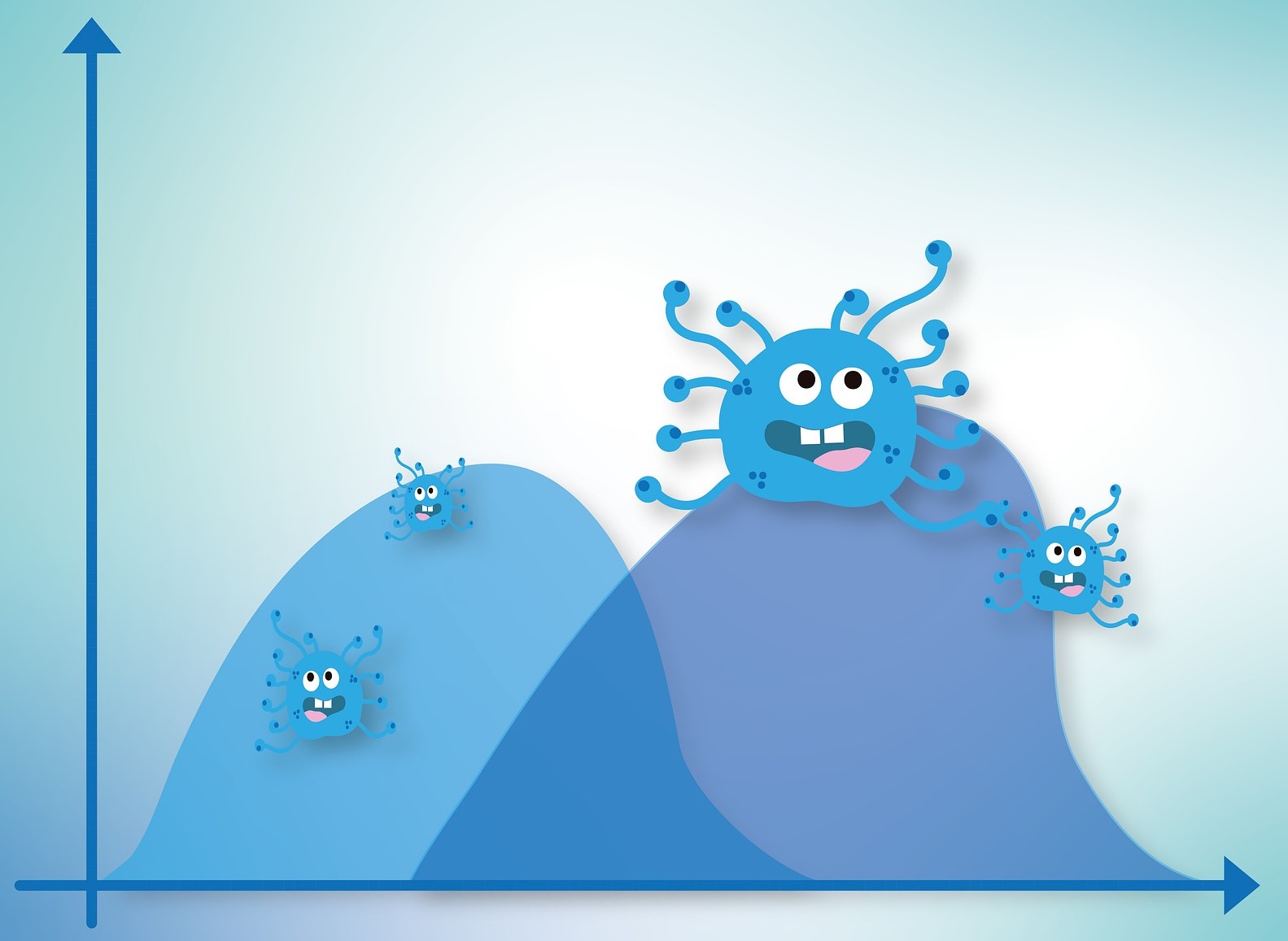 Image by Alexandra_Koch from Pixabay
The United States is seeing peak COVID-19 cases, hospitalizations, and deaths. The rollout of vaccines is welcome news. However, it will realistically take a little longer for the pandemic to be brought under control. In the interim, it is important for Healthcare businesses not to lose sight of the strategies that have helped sustain their financial health thus far. Focusing on the following points will help you continue providing healthcare during a pandemic and serve you well beyond it.
Loyal patient base: Maintain a loyal and engaged patient base to help ensure a consistent patient flow and a full schedule. Patients continue to expect medical facilities to maintain social distancing and other safety precautions. So do not let up on your efforts to ensure safety.
Efficient workflow: Keep costs in check by implementing an efficient, flexible, and paperless patient workflow. It enables you to stay nimble and adjust quickly when there is a surge or a temporary respite.
Dedicated optimally-sized staff: Rather than going through cycles of hiring and furloughing staff, work to create a optimally-sized well-trained group. This goes hand-in-hand with using automation to eliminate repetitive tasks. And so is adopting low friction technology that is easier to learn and maintain.
Here is what we are seeing our customers (medical practices and hospital outpatient facilities) do to survive and thrive in healthcare during a pandemic.
Update and Broadcast COVID-19 Protocols
Our customers clearly articulate the steps they will take to maintain a safe patient and staff experience. They disseminate this information through multiple mediums (examples: an update or alert on their website home page, a reminder that goes out before each appointment, a broadcasted email whenever the protocols change).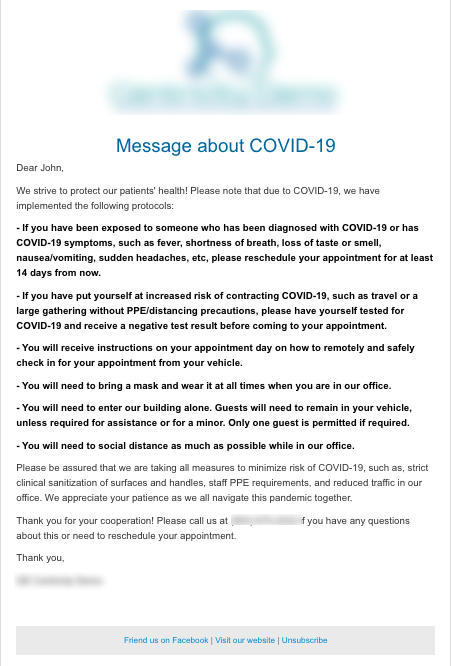 Socially Distanced Patient Sign in
A consistent concern we see in patient survey results is the perception of crowding in waiting rooms. This lowers confidence in your patient safety measures and can cause patients to delay or cancel future appointments.
The best way to address crowding in waiting rooms without having to lighten the schedule is to make your parking lot an extension of the waiting room. Have patients wait in their vehicles in the parking lot until it is their turn. When clearly communicated and well executed, patients will appreciate that your practice has made COVID-19 related adjustments. A bonus outcome is the ability to adhere to capacity restrictions if local or state governments require it.
Customers have implemented this using manual, semi-automated, or fully automated processes. A manual process requires dedicated FTEs (Full Time Employees) to monitor the parking lot or the entrance, and ask screening questions. A semi-automated process involves patients receiving same-day reminders telling them what number to call once they arrive in the parking lot. An automated process replaces the phone call with a series of questions on the patients' smartphone and a COVID-19 screening. It automatically updates the appointment status in the practice management system and also adds a note informing staff the patient is in the parking lot and if the patient has screened positive or negative for COVID-19 exposure.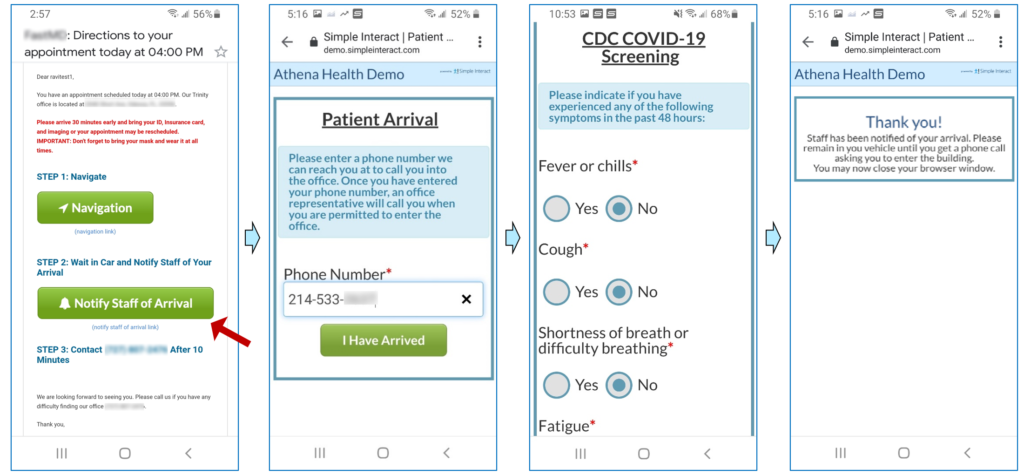 Use Contactless Online Patient Intake Forms
Our customers are making a concerted effort to implement a contactless patient workflow. A winning strategy is to leverage the patient's personal device (typically their smartphone) to get intake forms filled, images of insurance cards taken, and legal/consent forms signed.
An added benefit is that these tasks can now be performed in advance of the patient's appointment. Discrete medical history data along with PDFs can be auto pushed into the patient record. This significantly reduces staff data entry time and dramatically speeds up the patient workflow. It also reduces wait times, improves patient experience, and increases provider utilization. This automation works mostly in the background and reduces the amount of training needed for staff. Regardless of the pandemic, a paperless process is a far more efficient method than antiquated paper methods.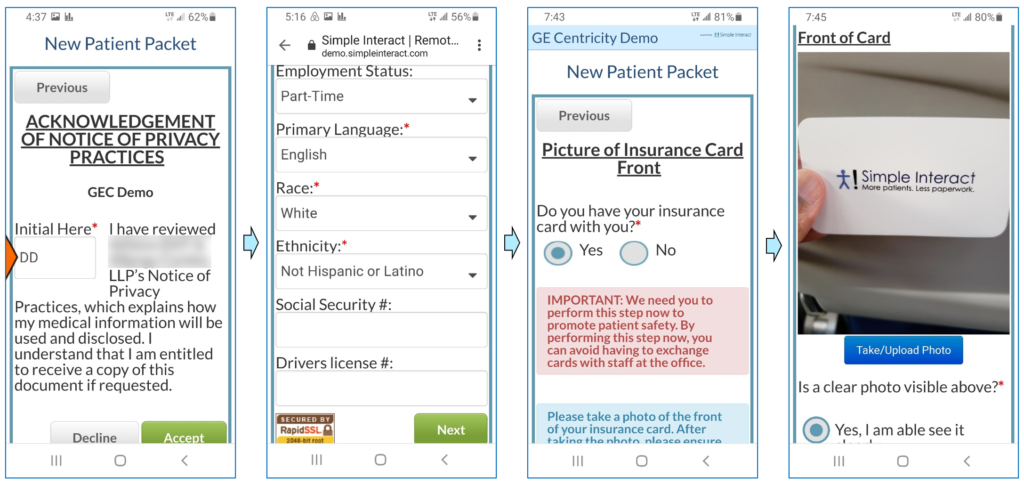 Adopt a Flexible Telehealth Strategy
When COVID-19 cases are surging, patients may be uncomfortable leaving their homes or may have to contend with temporary restrictions on in-person visits. This often leads to cancellations and no-shows. Our customers find that while telehealth appointments may not always provide the same level of care or reimbursements as in-office encounters, they are certainly preferable to having fewer or no appointments at all. It is therefore imperative to have a flexible telehealth strategy that allows ramp up and ramp down of telehealth visits based on evolving circumstances.
Here are a few measures to incorporate when ramping up telehealth: (a) use patient engagement and broadcast messaging tools to inform the patient base (b) use an automated process to obtain telehealth consents from patients and to share accurate teleconference links before each visit (c) allow patients to switch onsite appointments to telehealth appointments (d) allow patients to cancel appointments automatically to give you enough time to fill the slots (e) use automated processes to fill canceled slots (f) ensure positive patient experience by avoiding long wait times and needless confusion. For more details, check out this step-by-step guide to support telehealth.
Optimize Staff Size
The outset of the pandemic caused several customers to downsize or furlough their staff. In parallel, they made investments to adopt a telehealth strategy and to add automation to their patient workflow. Instead of rushing to rehire when the first wave was brought under control, they have tried to stay lean while scaling their business up.
Customers have focused on: (a) evaluating staff skills and identifying members who are adaptable and can wear multiple hats (b) verifying if existing tools can be used to automate more tasks or eliminate steps (c) adopting new technology to streamline, automate, and speed up their workflow (d) selecting technology that presents a low learning curve and therefore requires less training or retraining (e) adopting social distancing solutions for the safety of both their patients and staff (f) adopting policies to build camaraderie and loyalty.
Never Stop Innovating
We are constantly amazed and inspired by our customers' resilience and resourcefulness. Here are some strategies we have seen applied:
Maintain a list of delayed elective procedures and attempt to get them back on the schedule whenever there is a reprieve from a wave or related restrictions. Use broadcast messaging as part of the outreach.
Emphasize masking, sanitation, and communication (digital and signage) to put patients and staff at ease in terms of safety protocols.
Consider relaxing your appointment booking rules/constraints without completely breaking your rulebook. The goal is to accommodate more appointments when the schedule is light while also being able to switch back when the schedule is normal.
Be a source of valuable insights during a time of conflicting information. Sharing a flyer or webpage regarding topics such as masks, health risk factors, or testing sites would be appreciated by your patient base.
If your office is administering the COVID-19 vaccine, then use broadcast messaging to inform your patient base and enable them to request appointments.
We hope that this summary of what we are seeing our customers do will help you prepare your business for right now and beyond. If you have any specific questions, feel free to email us at sales@simpleinteract.com and we will gladly share from our experience.
Recent Posts
Categories
Archives